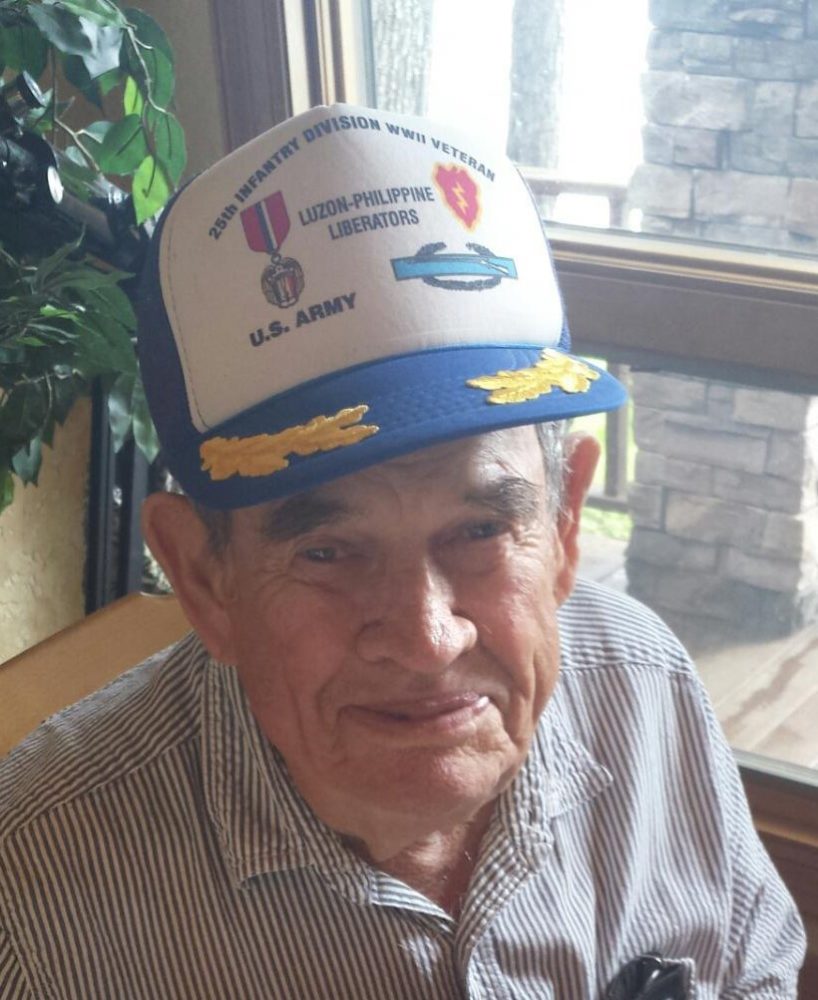 David (Dave) Gulley Sr. joined his gracious Heavenly Father and Lord and Savior Jesus Christ on November 9, 2016 at the age of 91. He joins his beloved wife, Katy, who preceded him in death November 17, 2014. He was born in Norton, Texas on August 20, 1925, the son of William Effinger and Lillie Mae Gulley. After being introduced by mutual friends, he married Kathryn (Katy) Wrinkle from the neighboring town of Bronte, Texas on February 10, 1949. They were married 65 years.
Before marrying in 1949, Dave proudly served in the US Army as a machine gunner in WWII in the Philippines and Japan from1944-1946. He received numerous commendations for his admirable service to his beloved country.  Upon moving to Sulphur Springs, Texas, from Eunice, New Mexico, in 1965, he worked as plant manager for the Warren Petroleum/Chevron gas processing plant in Como, Texas. He received an award for giving emergency aid and CPR to 2 co-workers when he and the two were all overcome by H2S poisonous gas. He was credited with saving both of their lives. Dave helped to form the Hopkins County Military Coalition who, as a group of veterans, perform military funeral services to honor their fallen comrades. Dave was asked on numerous occasions to speak about his past experience serving in WWII. He was proud to be an American and of his part in insuring our freedom. Dave was a member of the First Baptist Church of SS for 51 years where he served as a deacon. He was an active member of the Stephen Bonner Sunday School class.  He was a huge Wildcat football supporter attending games with season tickets for 51 years. He climbed the stairs to his seats at the top and traveled to an away game a few weeks ago at 91. He would always rewatch the games on tv to make sure he hadn't missed anything. He loved driving a bulldozer to build a new lake or push brush on his land at Pickton. His play was his work. He loved hunting deer on his land. He loved his family and always supported each of them in whatever activity or sport they were involved in. Each of them always felt loved, respected, and admired by him.
He is survived by 3 children and their spouses including David Gulley Jr. and wife Linda of Sulphur Springs, Susan Moore and husband Doug of Sulphur Springs, and Jeff Gulley and wife Connie of Whitehouse, Texas, 5 grandchildren including Kori Reed and Shane of Sulphur Springs, Amy Cagle and Will of Tyler, Steve Moore of Sulphur Springs, Stacy Moore and Brannon of Sulphur Springs, and Reid Gulley of Stephenville, Texas. He was blessed with 6 great-grandchildren, including 2 sets of boy-girl twins, Maverick and Jolea Moore, and Cole and Libby Cagle, Jaci Reed, Jett Moore, and a grandson, Brooks Cagle, on the way. They have all been blessed by God to call him family, friend, mentor, witness, and Godly example by which to model their own lives. He leaves quite a legacy for his family. He was preceded in death by his parents, William Effinger and Lillie Mae Gulley, and 4 siblings, James Gulley, Jessie Johnson, Owren Dunn, and Jessie Johnson, and his beloved wife, Katy.
Family visitation to honor his life will be from 6:00-8:00 pm at West Oak Funeral Home on Thursday, Nov. 10, as Dave would want all his friends to attend the Friday night Wildcat football playoff game. Funeral Services will be held on Saturday, November 12, 2016 at 10:00 am in the sanctuary of First Baptist Church with Pastor Mark Bryant and Rev. Fred Lewis officiating. Military graveside honors by the Hopkin County Military Coalition will follow at Restlawn Memorial Cemetery. Pallbearers will include grandsons Steve Moore and Reid Gulley, grandson-in-laws Brannon Moore, Will Cagle, and Shane Reed, and nephew Kerry Wrinkle. Honorary pallbearers are Gene White, DeWayne McMeans, Walter Grice, Ronnie Nix, Jimmy Price, Mike Bowman, and Johnny Caruthers, as well as, the Hopkins County Military Coalition.
Memorials in his name may be made to the Hopkins County Military Coalition at 147 Fore St, Sulphur Springs, TX 75482.  Arrangements are under the direction of West Oaks Funeral Home.