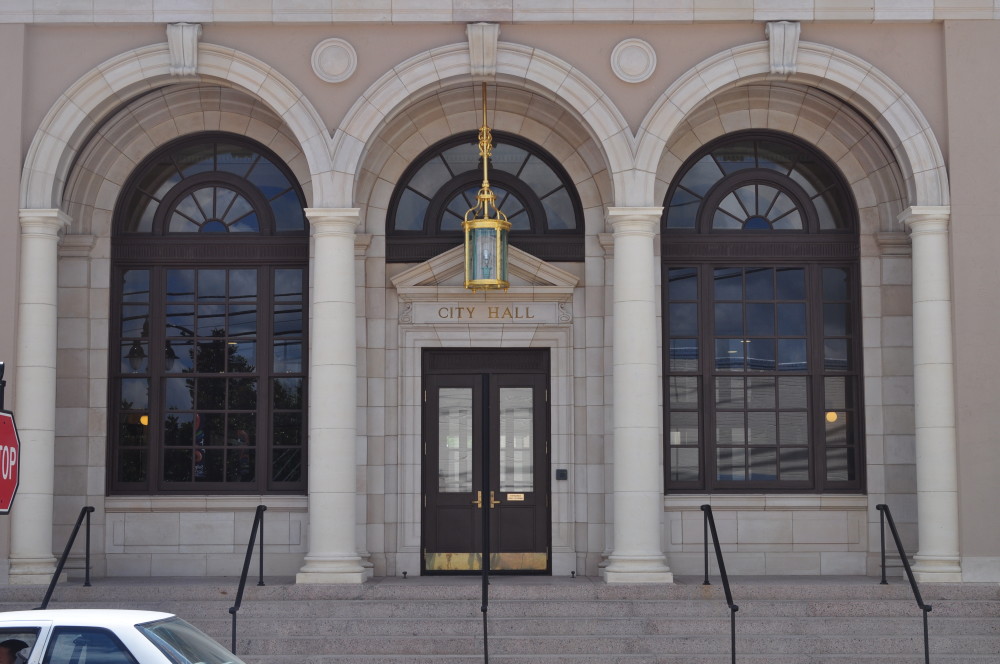 Attendance at the Sulphur Springs City Council Meeting Tuesday night was boosted by members of the Chamber of Commerce Adult Leadership Class. However, unlike previous years, this year's class sat through a 12 minute lack luster meeting. Council approved with little discussion a $79,750 contract for engineering that will lead to the building of Crosstown Trail.
The trail will connect Coleman Park to Buford Park and Celebration Plaza by a walking tract that will cross Main Street and also pass the High School and Civic Center. Council expects the design to be completed in two months and work to begin in March or April of 2017 and work completed by the end of 2017. The $1.1 million project is funded by grants from the Texas Parks and Wildlife Department and the Texas Department of Transportation. The city will contribute $200,000 to the construction.
City Manager Marc Maxwell reported to the council:
BILL BRADFORD ROAD –   Concrete street and curb & gutter improvements are underway on Bill Bradford Road.  5W Contracting has poured concrete from Gilmer Street to Carter Street which is about one-third of the length of Bill Bradford Road.  All utility work is complete.
DAVIS/TOMLINSON PARKING LOT – Parking spaces are constructed on two sides, Davis and Tomlinson.  Work will begin on the Main Street side soon.  The center area will be grass turf.
JEFFERSON STREET PARKING LOT – When the County opted into the Tax Increment Reinvestment Zone they committed to building a parking lot, and the City committed to beautification of the parking lot.  The county completed its part of the bargain two months ago, and now the city has completed its part.  We will probably come back in the spring and add Bermuda turf and some rose bushes.  The new lot has 77 spaces.
LOCUST STREET – Utility work has begun on Locust Street.  The Capital Construction Division is replacing the sewer main.  After that will be water improvements followed by street reconstruction.
CLAIMS – We did not have any workers' compensation claims or liability claims in October.
WASTEWATER TREATMENT PLANT – Total suspended solids (TSS) came in at 2.81mg/L, well within the limit of 10 mg/L.
REVENUES AND EXPENDITURES – Finance Director Peter Karstens will not present a year-to-date summary of revenues and expenditures since the year just started.
Elsewhere around the city, employees:
Responded to 125 fire/rescue calls including 1 structure fire.
Performed preventative maintenance on 86 fire hydrants.
Performed 77 fire safety inspections/surveys.
Responded to 42 accidents, recorded 71 offenses, wrote 434 tickets and made 56 arrests.
Seized 25 pounds of marijuana.
Made 11 felony arrests in the Special Crimes Unit.
Hosted a showcase softball tournament (32 teams).
Fertilized athletic fields.
Performed acres and acres of mowing and shredding.
Replaced all light bulbs around Coleman Park.
Sold 2,165 gallons of AvGas and 7,669 gallons of JetA fuel.
Conducted 35 building inspections, 23 electrical permits, 17 plumbing inspections, and issued 14 building permits.
Responded to 193 animal control calls, and achieved a 61% adoption rate.
Patched 41 potholes.
Installed a new pump for the water feature on the Veterans Memorial.
Repaired the city's car wash.
Performed preventative maintenance on several wastewater treatment plant items.
Converted most of the lighting at the airport terminal to L.E.D.
Repaired 17 water main ruptures and replaced 26 water meters.
Unstopped 11 sewer mains.
Repaired 3 sewer mains.
Washed 70,000 feet of sewer mains.
Treated 153 million gallons of water.
Flushed 36 dead-end water mains.
Hauled 46 loads of water plant sludge to the landfill.