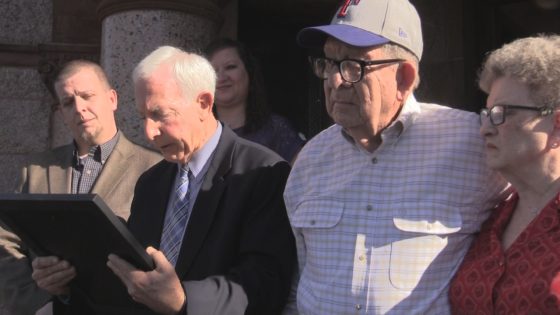 Hopkins County Judge Robert Newsom read a proclamation Tuesday morning at 10 a.m. on the steps of the Hopkins County Courthouse honoring Dave Davidson for his life of service in Hopkins County Baseball. The proclamation named October 11, 2016 as Dave Davidson Day.
 P r o c l a m a t i o n
WHEREAS,   M. D. "Dave" Davidson was  born in Hopkins County, Texas in 1934. He is known to his local league as "Dixie Dave". His career began with Dixie Baseball in 1976 as a minor league coach for the Hopkins County Boys Baseball Association.  Dave coached both of his boys (Shane & Justin) from 1976 to 1986.  Dave served the Hopkins County Boys Baseball Association as commissioner from 1981 until 1985.  In the Fall of 1986 he was selected to serve as the District Director for District 2 in Texas, covering 5 counties in Northeast Texas.  Dave Davidson served in this role until the Fall of 1990 when he was elected to the Texas State Director for Dixie Majors.  During his tenure as the State Director, the Majors program grew tremendously with record numbers of franchised leagues and producing World Series Champions and World Series Records by Texas teams and players. These are just several examples of his dedication for youth sports and local league participation; and
WHEREAS,   In 1994 Dave Davidson was elected to become a National Board Member. He held this position until his retirement in 2002. In this valuable role, he promoted youth baseball and was responsible for much of the exposure garnered at the national level by players and organizations throughout the southwest. In addition to his role on the National Board, Dave Davidson served on several rule committees and served as the center point for Texas for submission of the National Dixie Baseball Scholarship award. During his career, his primary purpose was to instill in youth the ideals of good sportsmanship, honesty, loyalty, courage and reverence to the end that participants of the program would become responsible adults; and
WHEREAS, Dave Davidson was honored by the Hopkins County Boys Baseball Association in 1999 by throwing out the first pitch to kick-off the '99 season and was honored again at the 60th Anniversary Celebration in Pineville, Louisiana in August, 2016 for his lasting contributions to youth sports; and
NOW, THEREFORE, I, Robert Newsom, Hopkins County Judge do hereby proclaim the 11th day of October, 2016 as "Dave Davidson Day" in Hopkins County, Texas, and
In Witness Whereof, I have hereunto set my hand and caused to be affixed the Great Seal of the State of Texas, in SULPHUR SPRINGS, the County Seat, this the 11th  day of October in the Year of our Lord, Two Thousand and Sixteen.