Don't forget about the Public Library this fall season!
ON HALLOWEEN, in support of Breast Cancer Awareness we will PINK OUT at the library, so bring the kids by because we love to see the kids dressed in their Halloween best to post on our Facebook page! We will have the greatest spooky books ready to be checked out!
AT MY DESK: I enjoyed the article in American Libraries titled "How Audiobooks Can Help Kids Who Struggle With Reading" by Linda Flanagan October 23, 2016. Teachers and parents who read aloud to children have long known that good stories have the power to captivate the most restless of kids. Being able to listen well and remember what was said was an essential part of the oral tradition.
The pairing of seeing the words in a book and listening to someone read it, seems to make a difficult process a little easier for a struggling child. Reading aloud is an important part of readiness for young children not to mention has a calming effect on that child. Good stories have the power to captivate restless children.
Research has identified a profound link between listening and literacy. Educators like Mary Ann Scheuer, sees how exposing kids to the spoken word via rich stories improves literacy. Books require readers to decode every word, while stories told, free up the listener to connect with the story. Hearing real people tell their stories triggers an emotional connection to the story which improves learning which in turn motivates the children to continue listening. Well told stories can also fill in the vocabulary gap if children have not been exposed to a large array of words over their lives.
Audiobooks open up a world of reading to many struggling readers. One teacher encourages the students to make a movie in their minds while listening. These students are able to participate in class discussion about plot and character and many will go on to read the book after hearing it read aloud.
In addition to the selection of audiobooks for children at the Sulphur Springs Public Library, here's a few of the great audiobooks available through Overdrive for the kids:
39 Clues series
Harry Potter series
Big Nate by Lincoln Pierce
Redwall by Brian Jacques
The Tale of Despereaux by Kate DiCAmillo
Frog & Toad, by Arnold Lobel
Where the Red Fern Grows by Wilson Rawls
Hi! Fly Guy by Tedd Arnold
Lemony Snicket series
Fancy Nancy by Jane O'Connor
Diary of a Wimpy Kid series
Along with many classics and classroom assigned selections
Additionally, tell the library staff if there is an audiobook you would like and we don't have. We are often happy to have you assist us in building our collection. After all, the library is here for you!
_________________________________________________________________________
PROGRAMS AND ANNOUNCEMENTS:
LOOKING FOR HOLIDAY GIFT IDEAS? November is the Friends of the Library Fundraiser. A minimum donation will enter you into a chance at a great weekend getaway prize to your choice of 4 resorts! The donations will go toward an indoor digital sign so you can see all of our programs and events in one place. Winner will be announced December 1.
Adults: Play LIBRARY BINGO for a free Sulphur Springs Public Library canvas book bag. Also, COMPUTER COACH is a help session, by appointment with a library staff member, to assist you with technology you have questions about.
TEENS had a great month here at the library. The Bookface photo contest was fun, exciting and creative. In case you haven't heard: Annmarie Gunn won first place, Jacelyn Wilkinson won second and Jayden Johnson was third in our Facebook, Bookface contest! Like us on Facebook and stay tuned for more great events at the Public Library.
Kids love our MULTIPLAYER MINECRAFT program every Tuesday at 3-6pm and the youngest library members love PRESCHOOL STORYTIME the first and third Fridays of each month at 10:30am. We are hoping to reach more preschoolers for better attendance at Storytime.
DID YOU KNOW…we have eBooks and eAudiobooks??! Our numbers have risen steadily in the two years since we began. EBook users have increased circulation 49% since last year and eAudiobook users have increased circulation 111%. WOW, somebody likes audiobooks. Would you like to get started on eBooks and eAudiobooks and don't know how? Visit Sulphur Springs Public Library for more information. We are happy to show you and even help set up your eReader. eReaders make a great Christmas gift and a visit to the library after Christmas is just the thing to get started.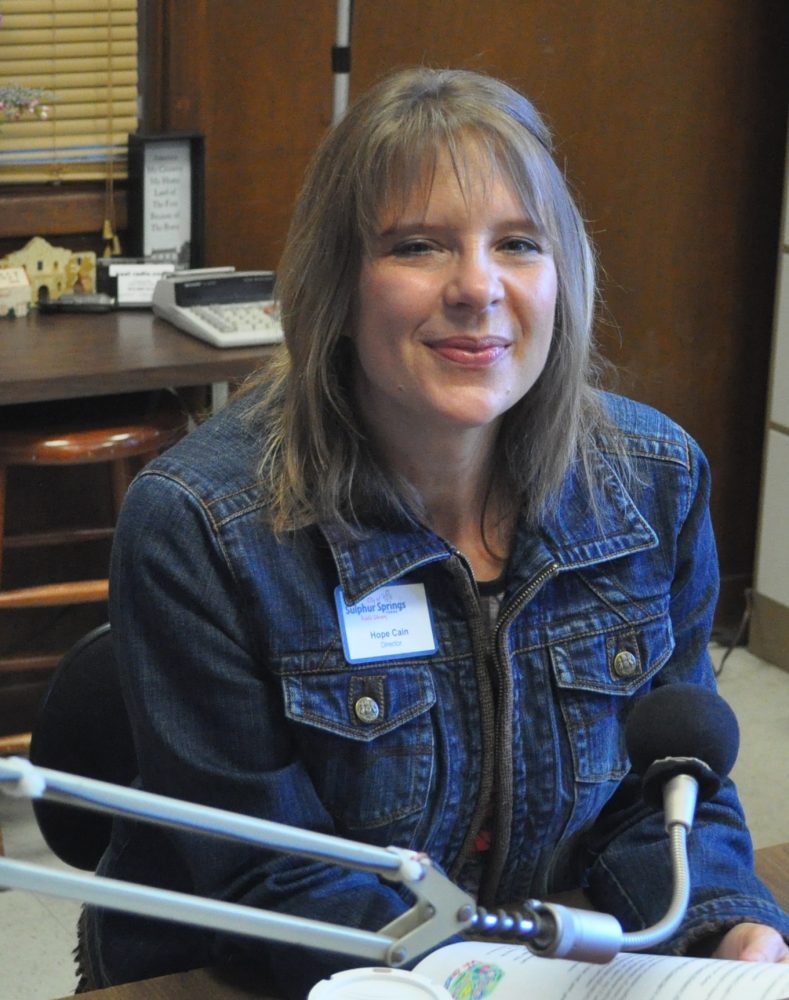 Submitted by Hope Cain, Director
Sulphur Springs Public Library