Sulphur Springs School Board honored two students for outstanding performance in academic achievement as they began their Monday night October board meeting in the administration building board room. The school board heard various reports and made appointments as well as accepted resignations and hired new personnel.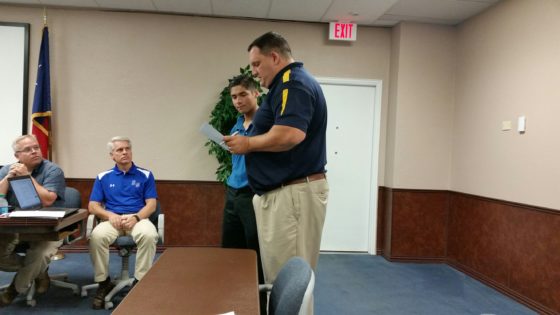 Christian Corona was recognized for his achievement in the College Board National Hispanic Recognition Program. Corona is in the Wildcat Marching Band and will play taps for the school's Veterans' Day activities in November of this year.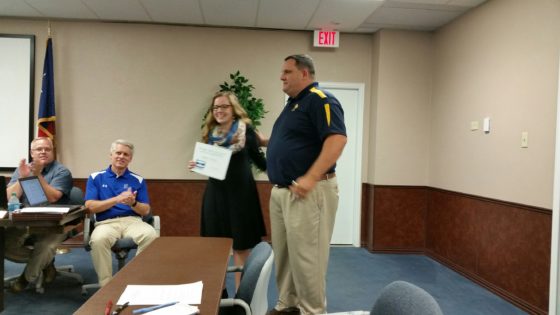 Mandy Echart was recognized for her outstanding performance on the Preliminary SAT/National Merit Scholarship Qualifying Test in 2015.
Kristin Monk and Lisa Robinson reported to the board that curriculum and reading data are nearing completion for the year. Robinson noted that the district is in its fourth year of a five year process to develop a curriculum that is tied and in line with the three principles of Written, Tested, and Taught. She noted that the district does not dictate to teacher how to teach but the district does support the teacher by presenting standards that can be utilized to unite the educational process for both teacher and student.
Red Ribbon Week for the district will be observed October 24-28. Red Ribbon Week emphasizes drug awareness and prevention of drug use.
Board members were provided copies of the Head Start Director' Report and Head Start Policy Council Minutes for September.
Various appointments were made: Board Member Robbin Vaughn was appointed as school board representative to the Head Start Policy Council and Assistant Superintendent Josh Williams was named records management officer for the district.
Personnel changes include:
Resignations
Carol Ann O'Dell                SpEd Aide                         Lamar
Jennifer Nunez                  SpEd Aide                         Middle School
Brandon Spangler             Instructional Aide               Austin Academic Center
New personnel
Xenia Franco                    SpEd Aide                         Lamar
Pamela Hooton                 Title I Aide                        Lamar
Taffy Kirby                        SpEd Aide                         Lamar
Stephanie Buchanan                   SpEd Aide                         Douglas
Carissa Williams                SpEd Aide                         Douglas
Sara Brown                       SpEd Aide                         Middle School
Jonathan Scoggins            SpEd Co-Teacher              High School