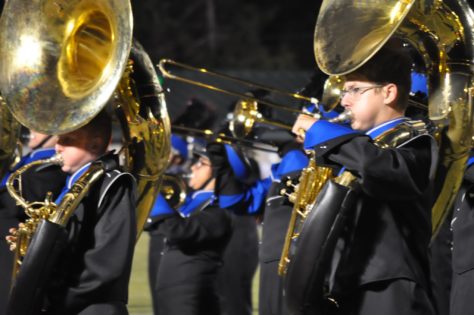 Wildcats Marching Band Director Charles McCauley calls October Contest Month. The Wildcats Band will have four contests, including UIL Competition, over 12 days beginning Monday. That day the band will be at a contest in Mineola.
McCauley says there will be 24 bands in all including 6A Tyler Lee, top Class 4A band Wills Point and a new powerhouse band from Melissa. He says his band kids will have the opportunity to see some fine bands. The Wildcats Band will perform at 1:45 p.m. Monday. McCauley hopes his band ends up in the top seven to qualify for the finals. Then they would get to play again before a new panel. McCauley says that will make it like an additional contest with the new judging panel.
The Wildcats Band will also go to a Commerce contest on October 15. UIL competition is in Mt. Pleasant on October 18.
The band's fourth contest is at Prairiland on October 22. McCauley says contests are very important because of judges' critiques of not just the band but also it's individual parts. There will be critiques of percussion, color guard and drum majors. McCauley says he has made many tweaks to the band's shows due to judges' comments.
McCauley says the contests are all about the band getting as good as they can be.