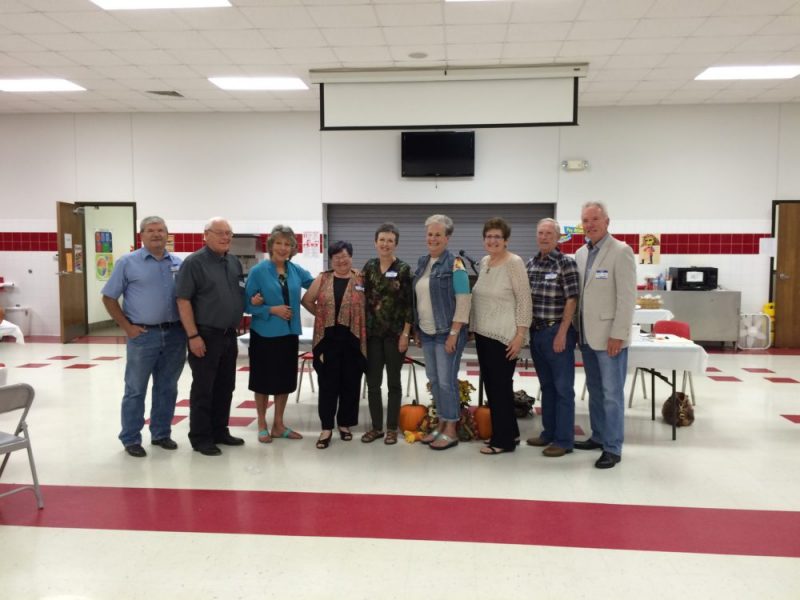 The annual North Hopkins School Alumni Homecoming was held on Saturday, October 8, 2016 in the school cafeteria. Approximately 50 former students and guests attended the event.
The group played a few games of Bingo, before enjoying a delicious barbecue dinner, catered by Andy and Mary Lou Wright. Following the meal, the Tommy Long, President welcomed everyone and allowed the alumni to introduce themselves. The Classes of 1966, 1976, and 1986 were being honored for their 50-, 40-, and 30-year reunion. Those class members shared a little about themselves, and then a video of their school years was played.
Members from the Class of 1966 who attended the homecoming were Jerry Brandenburgh, Donal McQueen, Marilyn Arnold Carter, Linda Ellen Vaughn, Susan Weir Ederer, Janie Shaw Lewis, Sharlene Cockrum Brice, Jamie Brice, and Ken Chapman.
The Class of 1976 was represented by Charlie Vaughn and no one attended from the Class of 1986.
Special guest, Dr. Roger Arnold, said a few words to the group about his experience as a former teacher at North Hopkins. Tommy Long led the group in the business meeting. The group approved the minutes, as presented by Secretary Sherry Smiddy. Jan Vaughn gave the treasurer's report. Mr. Long asked for volunteers for officers, but the group voted to keep the same ones – Tommy Long, President; Evelyn Arnold Horne, Vice President; Sherry Smiddy, Secretary; and Jan Horn Vaughn, Reporter/Treasurer.
Following the meeting, the Monday Night Jam band provided entertainment, while everyone enjoyed a time of visiting. The next school homecoming will be held on October 14, 2017. The Classes of 1967, 1977, and 1987 will be honored.
All former North Hopkins students are encouraged to put this on the calendar and make plans to attend next year.