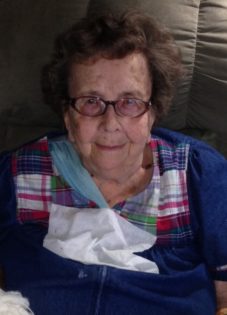 Funeral services for Dorsey Juanita (Wright) Fausett, age 96, of Garland, will be held Wednesday, October 19, 2016 at 2 p.m. at Murray-Orwosky Funeral Home, with Pastor Jerry Savage officiating. Interment will follow at Restlawn Memorial Park. Visitation will be held one-hour prior to the funeral, at 1:00 p.m. at Murray-Orwosky Funeral Home.
Dorsey passed away Saturday evening, October 15, 2016 at Rittenhouse Village in Garland.  She was born in Sulphur Springs, Texas, on April 21, 1920, the daughter of Sid Clyde Wright and Ida Truman (Snow) Wright.  She graduated as salutatorian from Sulphur Springs High School in 1938.  She married Marlin Blanton Fausett in Archer City, Texas, on May 21, 1939.  After raising her two children, she worked at Employers Casualty Company in Dallas for 17 years.  She was a member of Saturn Road Church of Christ in Garland for many years, and League Street Church of Christ in Sulphur Springs in her later years.
She was preceded in death by her husband on November 17, 1992; and by her brother, Truman Wright, on May 5, 1984.
Dorsey is survived by her son, Donald Wright Fausett; her daughter, Susan Fausett Clevenger; her grandsons, Benjamin Wright Fausett and Damon Vidrine; her granddaughters, Kimberly Vidrine Denton, and Savannah (nee Beth Marie) Barnes; her step-granddaughters, Beverly Baird and Jennifer Gorham; six great-grandchildren, and two great-great-grandchildren.  She was known affectionately by her family as "She Who", a name given to her by her children when they were young.  She had a kind and gentle spirit, and was much loved by her family and many friends.
Arrangements are under the direction of Murray-Orwosky Funeral Home.