Monday morning in Hopkins County Commissioners' Court, two proclamations were read. One Proclamation named this week, Fire Prevention Safety Week, the second proclaimed October as Domestic Violence Awareness Month. Sunday, members of the Hopkins County Marine Corp League lowered the flags to half-staff at 9 a.m. to commemorate the day honoring those fallen in service as firefighters.
In His proclamation, County Judge Robert Newsom stated that since 1922 Fire Prevention Week is observed to remind the public of the importance of fire prevention and in remembrance of the great Chicago Fire. It is a reminder that smoke detectors are a vital part of fire prevention in the home.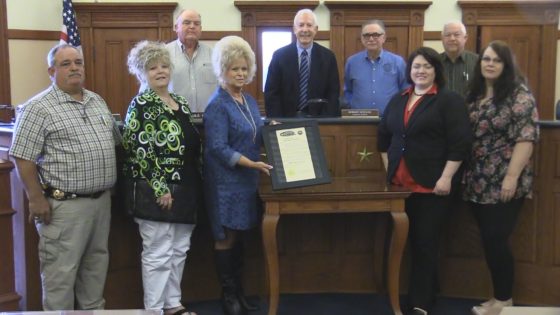 Domestic Violence Awareness Month is the focus of Safe-T, a Northeast Texas program that provides services to domestic violence survivors and sexual assault victims in an eight county area. Those services include crisis hotline, shelter, housing assistance, counseling, support groups, and rape-crisis intervention. Safe-T has provided 320 individuals in Hopkins county with services and 1,548 individuals area wide.