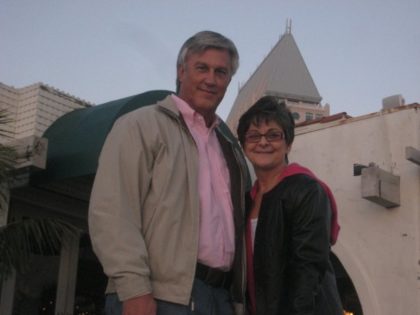 A celebration of the life of Joe Kenneth Weaver is planned for 10:30 a.m. Saturday, October 8, 2016 at Hideaway Lake Clubhouse, 101 Hideaway Ln Central, Hideaway, TX. Joe Weaver of Hideaway, TX passed away Oct 4, 2016 in a Tyler hospital after a brief illness.
Joe was born May 5, 1951 in Carnegie, OK to Jimmie Dean Weaver and Rhama Eudaley Weaver who proceeded him in death. He married Cathey Ann Talbert on Valentine's Day in 1980 she survives. Joe graduated from Southwestern Oklahoma State University School of Pharmacy in 1974 and moved to Sulphur Springs for his first pharmacy job with True Quality Pharmacy. In 1976 Joe opened his first pharmacy in Sulphur Springs. Over the next 35 years Joe opened many more stores, with the help of his staff and business partners. Joe retired from the daily operations of Medicine Chest at the age of 60 to pursue his unbridled passion for golf.  He had been on the course each of the three days prior to his illness. A world traveler, member of Mahoney Road, a Rock and Roll Band composed of an eclectic blend of Sulphur Springs musicians, his love of life and those around him was unquestioned.
Among comments on social media:
"He was my favorite coaches husband, he was my first boss as well back in 1984 when I went to work for Medicine Chest. I looked so forward to the days that he was the pharmacist on duty, we would laugh all day…"
He was "one of the most vibrant and fun loving people I have ever known…"
"He always had the most infectious smile and gave the biggest hugs."
Joe lived life to the fullest from playing golf with Cat, Judder, and Jade to traveling around the world to see all the sights he learned of in all the books he read. Joe worked hard and played harder.
He is survived by his wife, Cathy, and also by sons, Judson Talbert Weaver of Sulphur Springs, Dr. Jade Weaver and Wendi of Breckenridge, CO. Two brothers Jimmie Dean Weaver and wife Brenda, John Paul Weaver and wife Kaye and two sisters Jayne Lee and husband Lynden, Dr. Jeanne Akin, Joanna Bogle and husband Richard also survive as well as a numerous nieces and nephews.