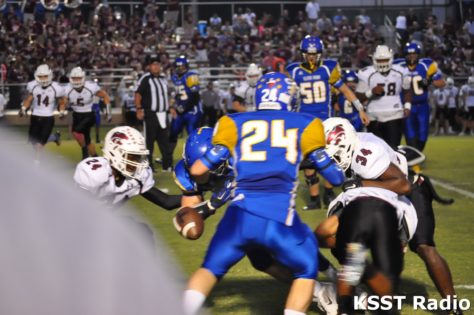 Whitehouse won their sixth straight football game against Sulphur Springs downing the Wildcats, 49-31 Friday night on Homecoming at Gerald Prim Stadium.
The Wildcats were unable to keep up with the Whitehouse offense. Whitehouse scored on five touchdown passes, on a short run and on an interception return for a TD.
Wildcats quarterback Ryan Humphries threw touchdown passes to Simeon Taylor in the first quarter and to Landry Tyson late in the fourth quarter. Back Searn Rodgers ran for a touchdown. Angel Tavera kicked a field goal and Austin Dodd picked up a fumble and ran it into the end zone on a punt situation that featured a high snap and a fumble by the punter.
The Wildcats only trailed 21-17 late in the second quarter when they lost a fumble inside their own twenty with just minutes left before halftime. Whitehouse scored with just 1:04 left in the second quarter and took a 28-17 lead into the halftime break. Whitehouse increased their lead with two TD passes in the third quarter to lead 42-17. After Whitehouse scored on an interception return for a TD, the Wildcats scored on a late TD pass that brought the final score to 49-31 in favor of Whitehouse.
The Wildcats are now 1-3 for the season. They open district play at Pine Tree next Friday at 7:30 p.m.