It's the season for Terrific Tuesdays funding! The local program provides a day of respite care for persons over age 50 with forms of memory loss. Terrific Tuesdays is held each Tuesday from 9am til 2pm at First United Methodist Church, downtown Sulphur Springs. Annually, cost to operate the program runs about $10,000. The fundraising drive is in progress through October 6 with a series of mini-walks held at area nursing home and assisted living facilities. (see schedule below) The main event, the Walk to Remember, is set for the evening of Thursday October 6 at 6pm along the walking path in the Gardens at Christus Mother Frances Hospital in Sulphur Springs will have some great prizes. Anyone can participate at any of the walks with a registration fee of $20. Donations are welcome any time of year. To contribute, make checks payable to Terrific Tuesdays , mail to 150 MLK Drive, Sulphur Springs Tx 75482 or phone 903-885-1661.
Tuesday, Sept. 20th at Terrific Tuesdays – 10:00 am at the First United Methodist Church
Thursday, Sept. 22th at Sulphur Springs Health and Rehab – 10:00 am
Monday, Sept. 26th at Rock Creek Health and Rehab – 10:30 am
Tuesday, Sept. 27th at Sulphur Springs Senior Center – 9:30 am During Fit and Strong
Wednesday, Sept. 28th at Sunny Springs Nursing and Rehab. – 10:00 am
Thursday, Sept. 29th at Hopkins Place Assisted Living – 10:00 am
Friday, Sept. 30th at Wesley House/Wesley Oaks – 10:00 am
BIG WALK will be Thursday, October 6th at 6:00 at The Gardens at CHRISTUS Mother Frances –
Sulphur Springs Hospital.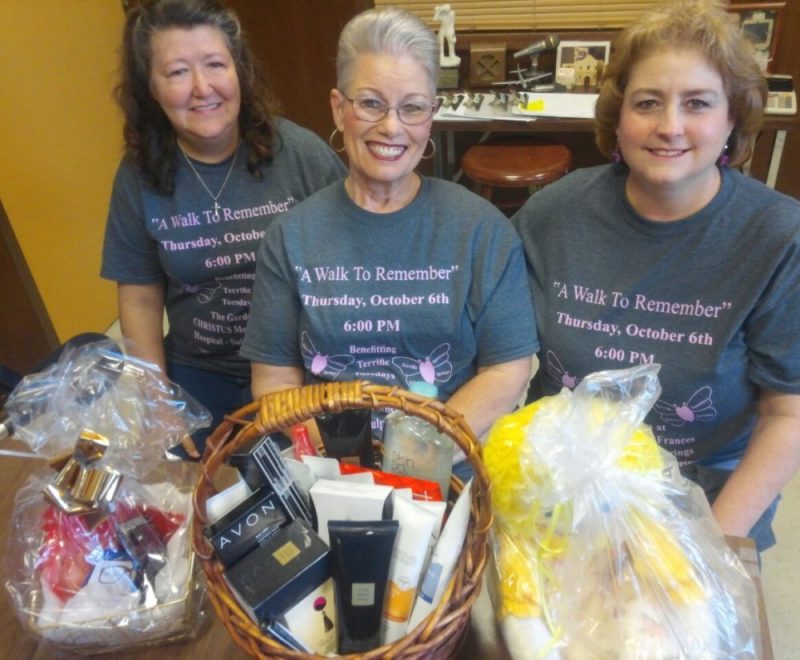 Walk to Remember leaders  Joyce McDonald, Patsy Cowan, Karon Weatherman