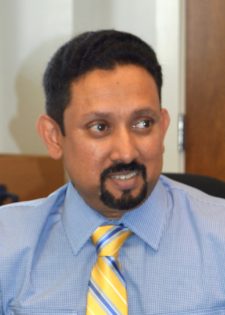 PARIS – Noel Paramanantham, P.E., was recently selected to serve as the new District Engineer for the Texas Department of Transportation's Paris District in Northeast Texas, headquartered here. He succeeds Paul Montgomery, P.E., who retired Aug. 31.
In his new role, Paramanantham will oversee the planning, design, building, operations and maintenance of the state transportation system for the Paris District, which is comprised of nine counties.
He graduated from the National Institute of Technology with a bachelor's degree in civil engineering in 1990, and earned his master's degree in structural engineering from Lamar University in 1993. Prior to his work with TxDOT, Paramanantham served as transportation planner for the Sherman-Denison Metropolitan Planning Organization.
Paramanantham began his TxDOT career in November 1995 as an engineering assistant for the Sherman Area Office in the Paris District. In 1999, he earned his professional engineering license and became design section manager for the Sherman office. In 2003 he was named assistant area engineer for the Sherman Area Office, a role he held until 2013. During that time, he oversaw the design and construction of the $50 million US 75 reconstruction project – the largest transportation project in the Paris District. He was also named Employee of the Year in 1997, and Engineer of the Year in 2001 for the district.
In 2013 he was appointed East Dallas County area engineer for the Dallas Area Office in the Dallas District. Later the same year he was named Dallas County area engineer, following an administrative merger of East and West Dallas Counties. In this capacity he managed $450 million in projects and $20 million in maintenance projects for Dallas County.
Paramanantham and his wife, Tammy, live in Sherman. He enjoys attending sporting events, traveling and camping. TxDOT's Paris District encompasses Delta, Fannin, Franklin, Grayson, Hopkins, Hunt, Lamar, Rains and Red River counties.