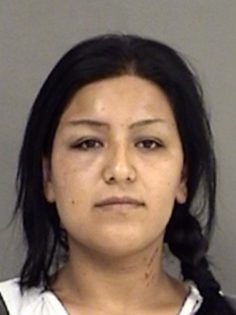 As Hopkins County Sheriff's Deputies arrived at a disturbance on FM 2560, they found Maria Guadal Sanchez-Estrada, 27 in her residence with numerous injuries to her head and face indicating a severe altercation. However, on further investigation, she was arrested for Aggravated Assault Family Violence with a Deadly Weapon.
Sanchez-Estrada followed the victim into the work shed when he arrived home with three minor children and items to be stored in the shed. She had a handgun and intended to start an argument. She pointed/aimed the weapon with intent to intimidate. He stated he felt fear for his life and threw a case of soda at her. She dropped the weapon. He cleared the weapon and removed it from the immediate area.
She continued with a physical fight leaving scratches on the male's body. The altercation ended when she went into the residence and called police. The male remained in the work shed with the children. The handgun was located by the deputies.
She is in Hopkins County Jail on a $25,000 bond.