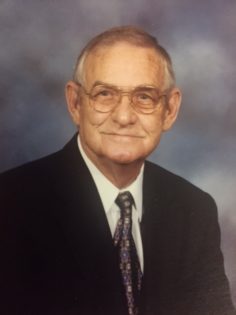 Jerry F. Anderson, age 81, of Lubbock, Texas, passed away on September 20, 2016. He was a life long member of the First United Methodist Church.  Jerry was born November 5, 1934 in Como, Texas to James Floyd and Ima Chapman Anderson. He married his wife Sue on July 3, 1964 in Brownfield, Texas. Jerry was a graduate of Brownfield High 1953 and attended Texas Tech University.  He attended Boys State, sponsored by the American Legion.  He was in the Boy Scouts of America, becoming and Eagle Scout and served in the Texas National Guard for 10 years. He worked for Amerada Petroleum and Hess Oil for 37.5 years, living in Brownfield, Seminole, Midland, Lafayette, LA, and White Oak, Texas.  After his retirement, he and Sue moved back to Lubbock in 2005, where they joined the First United Methodist Church, Lubbock.
Jerry was a Mason for 51 years,  He was raised in the Brownfield Lodge #903 and is a Past Master of the Seminole Lodge #957.   He was a member of the Seminole Eastern Star and a charter member of the Lubbock Scottish Rite Consistency.  He was on the Seminole Hospital Board from 1975 through 1997, serving as President in 1977.  He was awarded the Gladewater Chamber of  Commerce's Citizen of the Year in 1996.  He was appointed by Governor George W. Bush to the Texas State Nursing Home Board and served from 1997 through 2004.   He was known and loved for his big heart and generosity to everyone.
He is preceded in death by his parents, his twin sister Jane Ivy, and older sister Betty Lewis.  He is survived by his wife, Sue; brother-in-law Bill Ivy of Lubbock, Texas; niece Dianne Ivy of Lubbock, Texas; nephew David Ivy and his wife Kris of Streetman Texas; niece Jeanette and husband Jeff Tyson of Canyon Lake, Texas, nephew John Lewis of Baytown Texas; many extended family members; and numerous friends.
The family wishes to thank Dr. Floyd Pirtle and the wonderful, caring staff of the UMC, ICCU (5E).
Visitation will be held at Murray-Orwosky Funeral Home, Sulphur Springs, Texas on Thursday, September 22, 2016, from 6:00-8:00pm.  Graveside services will be held at Restlawn Cemetery Sulphur Springs, Texas on Friday, September 23, 2016 at 11:00am.
Memorial gifts may be made in lieu of flowers to The Scottish Rite Hospital for Children, 2222 Welborn St., Dallas, TX 75219.