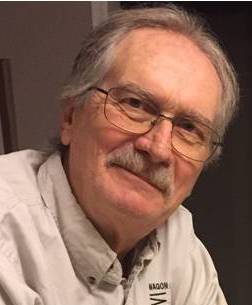 Funeral services for Douglas Ralph Palmer, age 66, of Sulphur Springs will be conducted at 2:00 p.m., Sunday, October 2, 2016 at Spence Chapel, First Baptist Church with Dr. David Hardage officiating and Erwin Cain assisting.  Interment will follow at Gafford Chapel Cemetery with Robert Newsom, Brad Cummings, Eddie Northcut, JK Crain, David Gideon, Jeff Carpenter, Stacy Cody and Tiger Massey serving as pallbearers. Honorary Pallbearers will be John Hipkins, Jonathan Newsom, Vince Palumbo, Jim Thompson and the Erwin Cain Sunday School Class.  Visitation will be from 6:00 to 8:00 p.m., Saturday, October 1, 2016 at West Oaks Funeral Home.  Mr. Palmer passed away Tuesday, September 27, 2016 at The Heart Hospital Baylor Plano.
Doug is survived by his wife Carol, daughter Kaia, Aunt Noreen Moore, Cousins Linda Riddle and David Moore and their families, nieces and nephews and many extended family members.
Doug was preceded in death by his parents, daughter Devon Michelle Palmer, his  brother Frank Palmer and his half-brother Leon Davis.
Doug graduated from Arlington High School where he was a member of the AHS marching band.  While in high school, he worked after school to get his barber's license by the time he was 16.  Doug spent a year in college studying drafting but decided he wanted a career as a barber.  Doug became a Master Barber and served as president of his local barber association and won many hair cutting competitions including a 5-state Barber championship.  After 20 years, he made a career change when he began learning how to install intercom systems and founded Home Systems Security in 1981.  He ran a thriving business in Arlington Texas until 2000 when he moved to Sulphur Springs to help his mother and "get out of the rat race."   Doug was an avid fisherman and spent many years fishing, for hours at a time, with his best friend "Speck" Barnard.  He was a country boy at heart and loved living in the country.  In the Spring of 2002 he reunited with his lifelong friend Carol and after 30 years of friendship they married in June of 2002.  After tragically losing his daughter in June of 2004, he and Carol were blessed with the gift of becoming parents to Devon's daughter, Kaia.  His "girls" were the love of his life.  Doug and Carol revived the security business in Sulphur Springs and incorporated HSS Home System Security in 2011 and ran a very successful security business for the last 5-1/2 years providing security for many large businesses and homes in Hopkins county and the surrounding area.  Doug was an active member of First Baptist Church in Sulphur Springs and was always willing to help out at church and anywhere someone needed a hand.  He was generous, loving and never met a stranger.  He was a "gentle giant" with a soft-spoken demeanor and a kind and gentle soul.  He was loved by all.
In lieu of flowers memorials may be made to the American Heart Association or the Kaia Salyer (Palmer) scholarship fund at Guaranty Bond Bank.
Arrangements are under the direction of West Oaks Funeral Home.