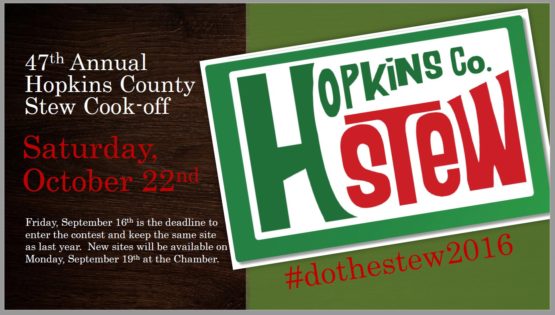 "Do the Stew" is the 2016 theme for 47th Annual Hopkins County Stew Cook-off, according to Lezlie Brown, Executive Director for the Hopkins County Chamber of Commerce. The theme will be featured in all levels of activity for the stew. The Stew Cook-off is October 22nd.
On Monday, September 19, all unclaimed stew sites will be open to new cooks or to returning cooks who would like a new site location. After September 19th, all sites will be assigned on a first come, first served basis.
A cooking team is composed of up to two cooks and two helpers. Each cooking team will need a $175 sponsor. From the $175 entry fee, $125 will be returned to the cooking team to purchase ingredients. Contestants are encouraged to participate in the campsite and costume contest.
A reception for the cooks is Tuesday, October 11 at 6 p.m. at the Southwest Dairy Museum. At that time, they will receive the ingredient check, two complimentary stew bowls, and contest rules and information. #dothestew2016