The Wildcats' football team won a thrilling season opener over Sherman, 43-42 at Gerald Prim Stadium Friday night. The game was in doubt until Wildcats safety D.J. Abron intercepted a Bearcat pass with just 1:22 left. The Wildcats were able to run out the clock. Both teams scored six touchdowns and each had one two-point conversion. The difference in the game was a missed Sherman extra point kick after their very first touchdown.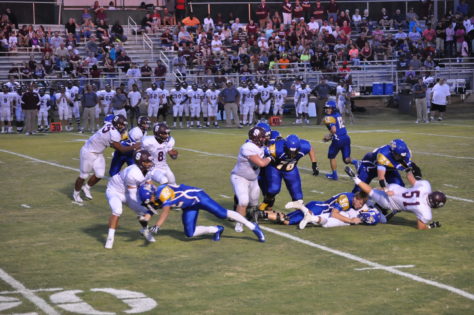 The Wildcats got four rushng touchdowns from four different running backs: Lawrence Worth, Jaylon Hawkins, Searn Rodgers and Cason Goodson. Quarterback Ryan Humphries threw two touchdown passes: one to receiver Landry Tyson and the decisive score to receiver Simeon Taylor.
Sherman also rushed for four touchdowns: one by back Brent Wilson and three long runs from big back Nathaniel Omayebu III. Bearcats quarterback David Bedgood also threw two touchdown passes. The Wildcats defense made several other key stops of Sherman in the final quarter.
The Wildcats, now 1-0 for the season, will play Seminole Ridge, Florida next Friday at 8 p.m. At ESPN's Wide World of Sports Stadium located at Disney World in Orlando, Florida.