A "Welcome Home" celebration for Del Frances and Loretta McKay from his 1550+ mile bike ride to Washington DC is set for 5:15 p.m. Monday, August 22, 2016 at Muddy Jake's on Main Street in Sulphur Springs.  His ride was in honor of his 74 shipmates who were killed when their ship wrecked during the Vietnam War.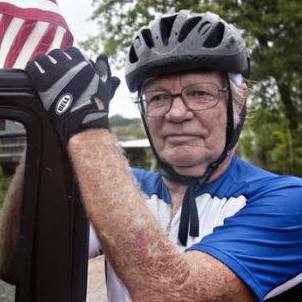 Frances started his Bike "Ride for Recognition" in Sulphur Springs at noon on June 3rd, 2016 and arrived at noon on the East steps of the Capitol Bldg in Washington DC 74 days later.  He is 74 years old now but during he Vietnam War, he was on the destroyer  Frank E Evans when it sank due to a collision with an Australian Aircraft carrier off the coast of Vietnam taking the lives of the 74 Sailors.
The family and friends of these young men have been trying to get their names added to the Vietnam Memorial Wall.  However, all their requests have been denied due to issues on the criteria for name placements. Del came up with the idea of riding a bike from his home to D.C. to bring public attention to this situation.