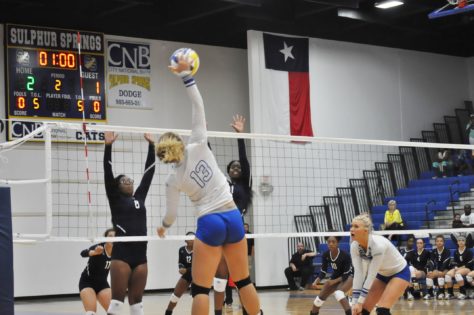 The Lady Cats' volleyball team made quick work of Paris Tuesday evening winning 3-0 in Wildcats Gym. However the first set was very competitive with the Lady Cats eking out a 25-23 win. Then the Lady Cats got stronger wrapping up the match, 25-18 and 25-13.
Lady Cat Mieke VanBenthem was very dominant at the net with ten kills, one block solo and 2 block assists. Abbi Baier also has a solid game for the Lady Cats. Coach Justin Maness also praised Anden Hammack's accurate passing and Tori Moore's assists. Hammack also had 7 digs while Moore recorded a whopping 35 assists along with 5 digs and a block solo. Also in digs, Imani Taylor had 6 and Maggie McGlammery had 5. Madi Vickery had 4 kills. Kaylee Jefferson also got 2 block assists.
The Lady Cats improved their record to 19-7. They will play at Liberty-Eylau Friday at 6 p.m.