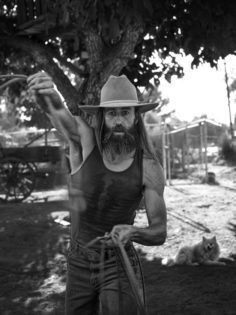 Jesse Eugene Holland, 47, born on November 17, 1969, in Carthage TX and passed away on July 1, 2016 in Colorado Springs CO. A family memorial Service will be conducted Sunday, August 28 at Mt. Evans near Aurora, Colorado to scatter his ashes.
Jesse had two sisters, Melanie Holland of Benton AR and Teri Robinson of Sulphur Springs.  He was preceded in death by his father Terry Holland.  His mother, Dianne Hershberger, resides in Sulphur Springs. At the time of his death he was engaged to be married. He had no children.
Jesse was raised in Longview and attended Pine Tree High School where he first became interested in acting.  He was active in the Longview Community Theater and modeled for local clothing stores.
After a stint in the Army reserves he moved to Miami FL where he had starring roles in several Thomas Griffith films which were produced for film festivals.  He was encouraged by a visiting acting coach to move to Los Angeles and pursue a career in film.  In 2005 he did just that.
While there, he landed small roles in many popular t.v. shows (including My Name is Earl, According to Jim, Sarah Silverman Show.) and became a stunt man on the Deadwood series.  He also appeared in several feature films (including Transporter 2, Color of the Cross) and many short films.
Jesse's greatest success came in modeling.  He modeled for photographers from all over the world.   He was sought out by EA Games to be their cover model and main character, Dusty, in the Medal of Honor 2010 video game.
Jesse was a camp counselor for Camp Reach for the Sky which is a camp for children with cancer and their siblings.  He also worked with autistic children.
He loved children, horses, dogs, nature, and motorcycle riding.
He was a screenwriter, poet, artist, singer, and musician.
During his adventurous life he traveled to Greece and Great Britain; raced motorcycles; boxed professionally; rode horses; competed in bull riding competitions; trained dogs and horses; became proficient in roping; and was a licensed private pilot.