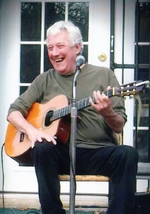 Mr. Jerry Mack Lindley, age 75 of Paris, formerly of Winnsboro, passed away on Thursday, August 18, 2016 at home with his family at his side. Jerry Mack was born in Winnsboro, the youngest of three children born to the late George C. and Lola Florence Jones Lindley. He was a veteran of the U.S. Air Force and a retired service technician for Xerox, but he never retired from his greatest joy in life, playing the guitar and singing. He was a member of Novice Baptist Church in Paris.
He was preceded in death by his parents; and brother, Hurshell Lindley.
He is survived by his loving wife, Brenda Huie Lindley of Paris; sons, David Lindley and wife Paige McGowan of Scroggins, Joseph Lindley of Paris, Jerremy Huie and wife Deana of Paris; sister, Sybil Lord of Winnsboro; and four grandchildren, Savannah Lindley of Timpson, Sierra Lindley of Scroggins, Layla and Macyn Huie of Paris.
Visitation will be held on Sunday, August 21st, 2016 from 6:00 pm to 8:00 pm at Beaty Funeral Home-Winnsboro. Funeral Services will be held on Monday, August 22nd, 2016 at Beaty Funeral Home-Winnsboro at 2:00 pm, interment will follow at Smyrna Cemetery in Winnsboro, with David Lindley, Joseph Lindley, Jerremy Huie, Jackie Huie, Ricky Lord, and Rod Lord serving as pallbearers. In lieu of flowers, donations can be made to St. Judes Children's Hopital.