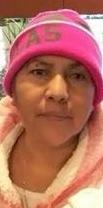 Funeral mass for Honorina Ontiveros, age 62, or Emory, will be held at
4:00 pm
,
Wednesday, Aug. 31, 2016
, at St. John the Evangelist Catholic Church. in Emory.  Rosary will be
5:00 pm
and visitation from
6-8:00 pm
  Tuesday Evening at Wilson-Orwosky Funeral Home Chapel.  Burial will follow service
on Wednesday
at Hopewell Cemetery.
Mrs. Ontiveros passed away
Saturday
afternoon, Aug. 27, 2016, with her family close to her. She was born in Apaseo El Grande, GTO on Feb. 26, 1954, to Antonio Licea Galvan and Maria Delores Rubio.She married Florencio Ontiveroa-Rogriguez in Apaseo E;l Grande on Jan. 1970.Honorina was a homemaker.  Also, she attended St. John the Evangelist Catholic Church.
Survivors include:
Husband:  Florencio Ontiveros-Rodriguez of Emory
Daughters:  Daysi Ontiveros, Patricia Ontiveros, and Olga Ontiveros
Sons:  Ramiro Ontiveros, Fidel Ontiveros, Miguel Ontiveros, Arturo Ontiveros,Francisco Ontiveros
Sisters:  Alicia Vargas Licea, and Maria Licea
Brothers:  Ines Licea, Saturnino Licea
and her Father:  Antonio Licea Galvan
She was preceded in death by her Mother.