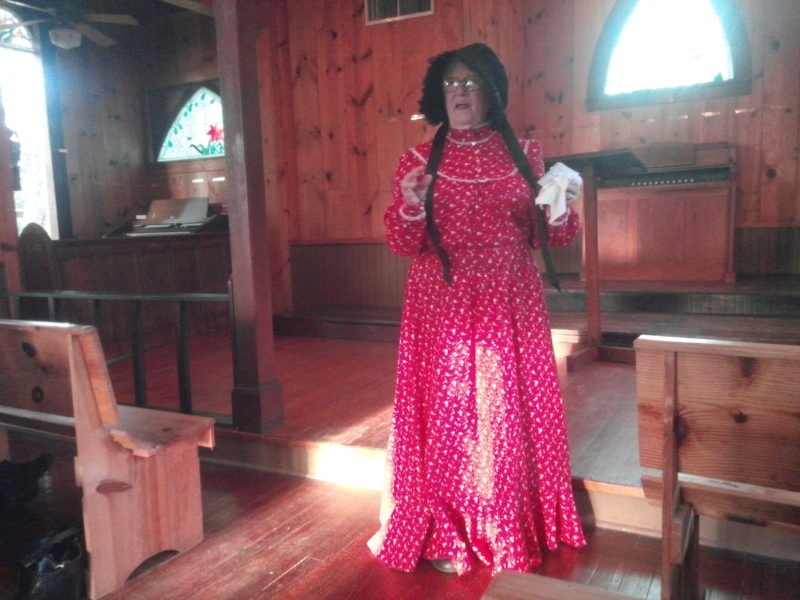 ISABELLE HOPKINS AS PORTRAYED BY PAULA ALTENBAUMER
The Hopkins County Historical Society hosted the annual joint meeting with the Genealogical Society on Thursday August 25 in the Chapel at Heritage Park. Approximately 50 persons attended.
First, introductions of Historical president Bill Glover and Genealogical president John Sellers were made followed by announcements of upcoming events in the Park including the Yard Sale with Friends in the Park on September 10, the Picnic for Members and Friends on September 22 and the 12th annual Indian Summer Day and Dutch Oven Cook-0ff set for October 1.
After that, historical character Isabelle Hopkins Hanks Clark Gordon (presented by Paula Altenbaumer) addressed the assembled group. Born in Kentucky in 1805, Isabelle would later end up living in the area that would become Hopkins County, Texas. Her life spanned almost 90 years, 3 husbands, 11 children and numerous moves as the territory became settled. Her husbands and sons fought in Indian wars, the Civil War and in Texas' war for independence. She saw entire tribes of Indians re-located to lands near her. She saw modes of travel change from wagon roads to river travel on keel boats to steel rails as the railroads were built from East to West. Her first husband John Hanks and she traveled by wagon to the large Arkansas territory in 1824. The couple wanted to join one of Moses Austin's colonies but their travel was  hindered by few roads and almost no bridges. While living at the Jonesborough settlement on the south side of the Red River,"the gateway to Texas", she met others who came to the outpost to cross into the territory that would become Texas…she met Sam Houston, Davy Crockett, Steven F. Austin, Ben Milam, Deaf Smith and others who would become builders of our state. Her next husband, James Clark, finally received his "league and a labor" of land from the new Texas government. His dream had been to build a town and name it Clarksville, and he had been mapping out the site when he died of an illness in 1838. A widow again, Isabelle then married Dr. George Gordon and carried on the plans by having the first wooden courthouse built and donating land for a church and a jail in Clarksville. A member of her family George Harrison Hopkins brought four sons to Texas, including David who is credited with the naming if Hopkins County. In 1846, Hopkins family land at Old Tarrant was donated for a county seat. Isabelle passed away in 1895 at the age of 89. She, husbands and sons are buried in the Catholic cemetery at Clarksville. One of her sons Pat Clark wrote a book of her life and his family's experiences.