Chamber Connection-August 25th

This is the last week to purchase Speed Networking tickets!  The Chamber of Commerce is hosting An Evening of Speed Networking!  Because networking is just a fancy word for making friends! Our event will be held on Tuesday, August 30th, from 6 p.m. to 8 p.m. at Cedar Canyon in Sulphur Springs. This is the perfect opportunity for local business owners to network with other business owners in a non-pressured environment, meet new people, promote and describe their businesses, and enjoy delicious food and beverages provided by Lyndsay's Plates + Provisions. Many door prizes will be given away throughout the evening.  There are limited spaces available, so tickets will be sold on a first come first serve basis.  Tickets are $25, so call the Chamber of Commerce at (903)885-6515 to reserve your ticket right away! It's going to be fantastic!
The deadline is quickly approaching to submit your entries into the first annual Hopkins County Chamber of Commerce Photography Contest! Let me review the basics.  Anyone of any age can enter as we have a children's category.  The picture must be newer than January 1, 2014, and must have been taken in Hopkins County. The contest will be open from August 1st to August 31st.  There are seven categories you may enter: Natural World, Travel, People, The Hopkins County Experience, Altered Images, Mobile, and Children's Category. Only digital images are accepted (no prints). To submit your photograph, email the picture to [email protected]  Rules and releases are available on the Chamber of Commerce website.  I cannot wait to see your beautiful photos!
Stew Cook-off updates:
Just a reminder, the Chamber allows one non-profit organization to sell drinks at the Stew Cook-off.  There are several rules and regulations to follow, but if you are interested in placing your organization's name in the hat, please call the Chamber.  You will be asked to come in and sign an understanding agreement in regards to rules and expectations.  Deadline for volunteers is Friday, August 26th.  Once we have all of our volunteers in place, we will literally pick one out of a hat and award drink sales to that organization.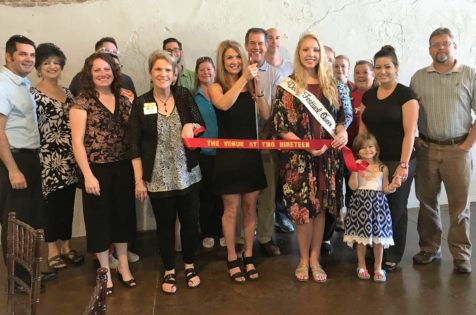 The Venue at Two Nineteen hosted its Ribbon Cutting Celebration Wednesday, August 24th at noon
We very much enjoyed the ribbon cutting celebration for The Venue at Two Nineteen on Main Street at noon.  We have all watched this building with anticipation wondering how beautiful this venue would become, and it did not disappoint.  This building serves as a downtown venue for commercial and personal gatherings such as showers, birthday parties, and family reunions.
Bakers Back Our Blue Silent Auction in August 26th from 10 a.m. to 6 p.m.
There will be a silent auction at Sulphur Springs City Hall on Friday, August 26th from 10 a.m. to 6 p.m. with all proceeds going to Adopt-A-Cop in Sulphur Springs.  This silent auction is a unique one, because you can bid on baked goods such as cakes and cookies.  Event sponsored by Bakers Back Our Blue.  Go by any time that day to make a purchase and Back Our Blue!!
First United Methodist Church will host Divorce Care every Wednesday at 6 p.m.
Divorce Care continues every Wednesday from 6 p.m. to 8 p.m. through September 13th in the administration building at First United Methodist Church.  All who are dealing with separation or divorce are invited to attend.
Lone Star Quilt Guild currently selling raffle tickets for the 17th Annual Quilt Show
The Lone Star Quilt Guild is currently selling raffle tickets for the 2016 Raffle Quilt called Autumn Stars. Autumn Stars was designed by Joy Gregory, made by guild members, and quilted by Debra Hager.  Tickets are 1 for $1 or 6 for $5.  The 17th Annual Quilt Show will be held September 16th and 17th at The ROC, First Baptist Church Outreach Center at 115 Putman Street in Sulphur Springs.  We have tickets available here at the Chamber of Commerce, or you may purchase tickets from Quilt Guild members.
The Lights of Life Style Show is scheduled for Thursday, September 15th at 6:30 p.m.
The HC Health Care Foundation is hosting its annual Lights of Life Style Show on Thursday, September 15th at 6:30 p.m. at the First United Methodist Church.  Entry fee is a $25 donation and there will be door prizes and a raffle.  Dinner and Fashions will be provided by Lou Nells.  For ticket information contact the Foundation office at (903)438-4799 or Lou Nell's at (903)885-0664.
Workforce Solutions will host its annual LEAP Conference on September 23rd from 9 a.m. to 12 noon
Workforce Solutions of Northeast Texas is hosting its annual LEAP (Learning Endorsements and Professions) Youth Expo on Friday, September 23rd.  This event is very much like a job fair except that it is geared to educate eighth graders and help guide them as they make their endorsement selections heading into high school.  Workforce Solutions is seeking a wide variety of companies and businesses to attend the LEAP Youth Expo to describe your business and expose eighth graders to all career avenues after graduation.  Since students now choose their high school endorsements while in eighth grade, the Expo is perfect for them.  Please consider attending this Expo and taking visuals and information to give away.  They will be so thankful to have you there!  Please call Bart Spivy at (903)794-9490 ext. 513 with any questions.
Shadow Ranch will host their First Annual 5K Ranch Obstacle Run on September 24th
Shadow Ranch wants to see if you are in shape!  They will host their first ever 5K Ranch Obstacle run on Saturday, September 24th with the first wave of participants heading out at 9 a.m.  This 5K run/walk will involve ranch obstacles such as climbing hay bales, enduring water/mud obstacles, going under barbed wire fences, flipping tractor tires, opening and closing gates, rolling hay rings, and jumping and sprinting with wheel barrows.  Early registration entry fees (before September 10th) are adults $20, kids (ages 8-15) $10.  Registration fees from September 10th to September 23rd are adults $25, kids $15.  Then, the day of the run registration fees are adults $30, kids $20.  Online registration can be found on Shadow Ranch's Facebook page along with waivers and paperwork.  Sounds like a fun event!!!!
 Celebration Plaza's Friday night movie will be Pokemon 2000 at 8 p.m.  Saturday morning, the 5th Annual Jace Jog will be held at Coleman Park at 8 a.m. Yoga on the Square will be offered from 9 a.m. to 10:00 a.m. The Celebration Market will be held on Celebration Plaza from 6-10 p.m. and Thee Effinays will provide your entertainment starting at 6 p.m.
Ribbon Cuttings:
The Venue at two nineteen held their ribbon cutting celebration on Wednesday, August 24th at noon.  This building is located at 219 Main Street in Sulphur Springs and serves as a downtown venue for commercial and personal gatherings that will hold up to 150 people.  To reserve The Venue at two nineteen, contact Lalonna West at (903) 782-8788.