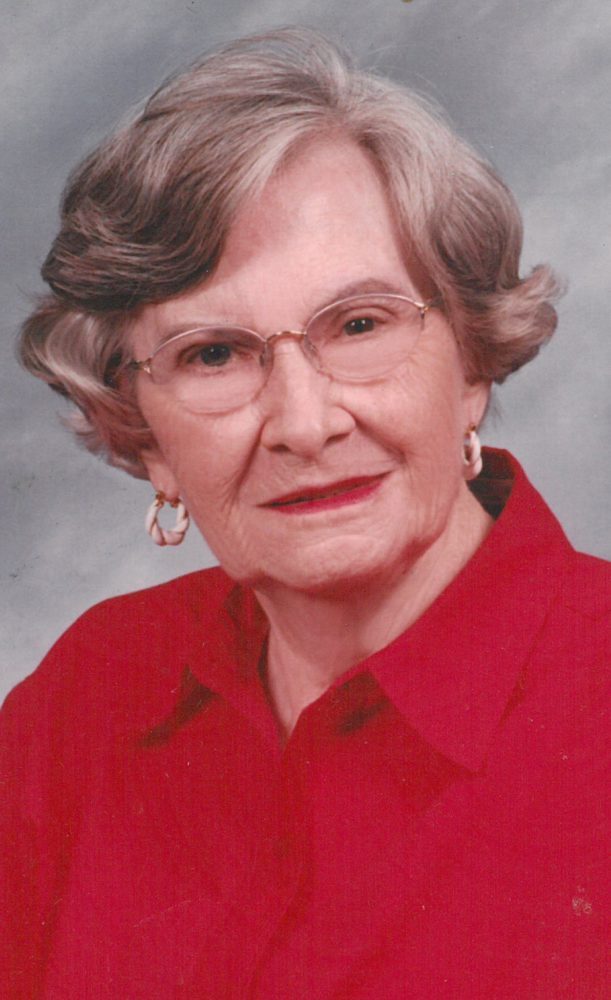 Funeral services for Billie Jo Newsom, age 91 of Sulphur Springs, will be held Thursday, August 18, 2016, at 10 am at Murray-Orwosky Funeral Home with Robert Newsom officiating and Jack Newsom Jr. assisting. Interment will follow at Liberty Cemetery in Purley, with Cade Newsom, Cole Newsom, Joel Newsom, Jon Newsom, Philip Kincaid, Jacob Hathcoat, Andrew Hathcoat, Jay Shearer, Peyton Howard and Jackson Newsom serving as pallbearers.  Visitation will be held Wednesday, August 17, 2016, from 5-7 pm at Murray-Orwosky Funeral Home.
Mrs. Newsom passed away Monday, August 15, 2016 at her residence, in Sulphur Springs.  She was born April 21, 1925 in Breckenridge, Texas, the daughter of Fred and Velma (Dalton) Tibbles. Billie Jo married Jack Paul Newsom on May 1, 1948 in Cumby. He preceded her in death in 2000.  She graduated from East Texas State Teachers College in Commerce, and retired from teaching after 29 years. In 1944, she worked for the Navy Department in Washington DC. Billie Jo was a member of Wesley United Methodist Church.
Mrs. Newsom is survived by her sons, Robert Newsom and wife Robbie, of Sulphur Springs; Jack Newsom Jr. and wife Vicki, of Sulphur Springs; daughters, Millie Nylan and her late husband Bill, of Como; Vickie Hathcoat and husband James, of Sulphur Springs; grandchildren, Philip Kincaid; Stacie Shearer and husband Jay; Jacob Hathcoat; Andrew Hathcoat and wife Lorelei; Lt. Col. Joel Newsom and wife Amy; Maj. Jonathan Newsom and wife Maci; Brooke Howard; Cole Newsom and wife Erica; Cade Newsom; Great-grandchildren, Sydney Shearer; Madilyn Newsom; Jackson Newsom; Hannah Newsom, Joshua Newsom; Joel Daniel Newsom; Abigail Newsom; Jedediah Newsom; Noah Newsom; Anna-Claire Newsom; Peyton Howard; Rhett Newsom; Hayden Krecek; Gavin Williams; Preslie Hoy; and Savannah Hines.
Family requests memorials be made to Heritage Christian Counseling Center, 212 Connally St., Sulphur Springs, TX 75482