A good group gathered for the Tira Homecoming on Sunday. Danna (Evans) Lewis did a great job emceeing the program. Also, she and her sister, Dusti (Evans) James, each sang a beautiful, inspirational song. Several members of the congregation shared stories of memories in Tira. Floyd and Martha Payton were honored for their many years of dedicated service to the Tira Cemetery Association and the community. Martha presented a rose to the family members of those buried in the Tira Cemetery during the past year. During the business section of the program, the group voted to clear a section of the land donated by the Lynn Chapman family and expand the cemetery, in an effort to have burial space for future generations. Following the program, folks gathered at the picnic tables for a covered-dish lunch. Although the temperature was high, there was a nice breeze, which made the event more comfortable. On behalf of the Tira Cemetery Association, I would like to express our appreciation to everyone who donated to the perpetual care fund, for the upkeep of the cemetery, and also to Floyd Lawson for keeping the grounds looking so beautiful. Thanks also to Ben Jennings for placing flags on the graves of our veterans.
William and Joyce Dodd had a nice visit with William's half-sister, Paula Dodd, and her youngest daughter, Samantha, from Fresno, California, on Thursday afternoon. The last time they had seen her was 40 years ago, when she was only 10 years old. They enjoyed recalling past memories. On Saturday, June 25th, they had a surprise visit from one of William's cousins, Gala Hurley Oakes and husband Randy, from Sweeney, Texas. They enjoyed catching up on old times.
Yvonne Weir returned from South Dakota on July 1st. She said it was cool and relaxing there. Mike and Dacy (Weir) Campbell and their kids, Elise and Eli, also visited while she was there. Everyone enjoyed the ranch, the Black Hills, and Mount Rushmore. Dustin and Natalie Weir have returned from a wonderful trip to Turkey and Italy. Due to Natalie's schedule, Dustin is spending a few days with his folks, following surgery on his leg.
I always need and appreciate input from my friends to help keep me informed of news in our community. If you have any news pertaining to Tira residents, past or present, please contact me, Jan Vaughn, at 903-945-2190 or 903-438-6688 or [email protected]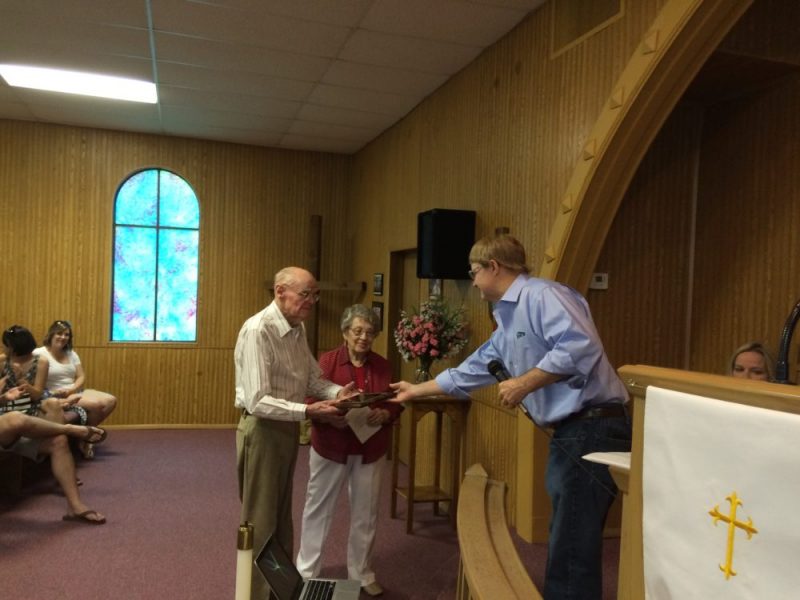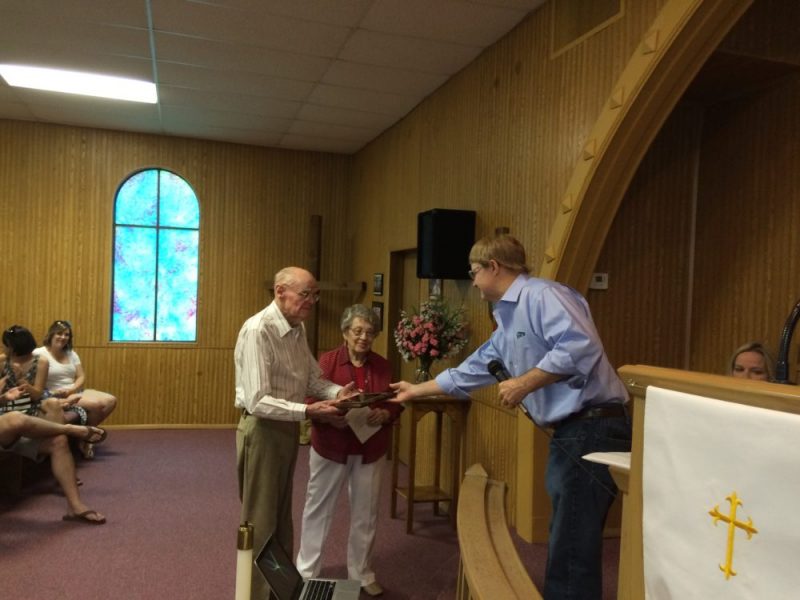 Caption: Mark Chapman, Vice President of the Tira Cemetery Board, presents a plaque to retiring president, Floyd Payton, and his wife, Martha, in appreciation for their many years of dedication to the cemetery association and the community.