by Allison Bledsoe
The Sulphur Springs Farmers Market has been a hotspot on Saturday nights for several years. Vendors from all across Texas, whether they're from Como or as far as Denison, flock to the downtown area. The vendors spend time setting their tents, tables, merchandise, and displays up for shoppers and onlookers alike. I went downtown Saturday evening to meet the people who give the farmer's market it's name and substance.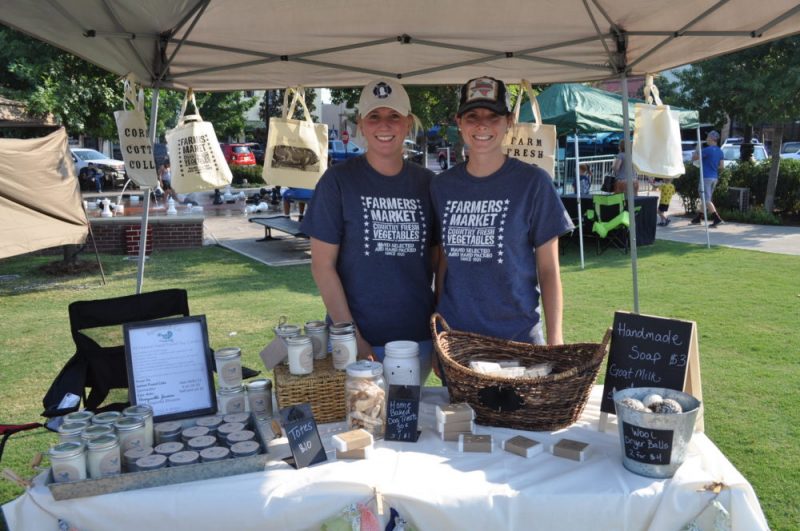 The first people I met, and gave my odd spiel too, were Jamie Pfennig and Amy Marler. These two awesome women own Pennfield Co. They specialize in all-natural, hand-poured soy candles (which burn 50% longer, amazing right??). They also have goat milk soap, handmade totes, and wool dryer balls that last up to a year. The wool dryer balls were something new I'd never heard of, they keep a lot of the static out of your clothes, last up to a year, and don't add extra chemicals into your clothes or linens like normal dryer sheets do. Jamie and Amy are normally found at the Commerce Farmers Market and this was their first time to set up in Sulphur Springs.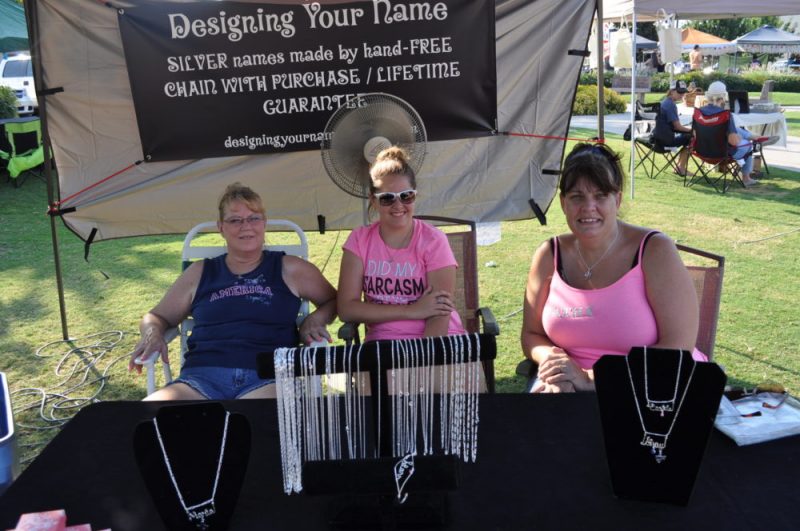 Right around the corner, there was a sweet trio of women. These three were from Alba, Texas and have a neat business called "Designing Your Name". They can arrange any name in silver and put it on a necklace that has a life-time guarantee. They also have rings and other jewelry available.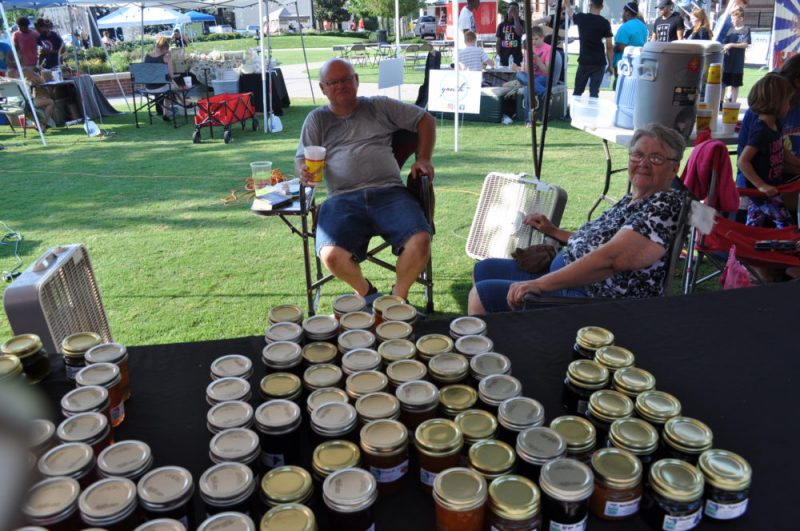 Down from the splash pad, several vendors are set up to sell pickled vegetables, jams, and fresh produce. I visited with a couple from Como, Texas, owners of Midway Farms, who had just sold out of peas earlier that morning and were trying to beat the heat under their tent. They had a several different jams, including a Dr. Pepper flavor (honestly, they had me at Dr. Pepper).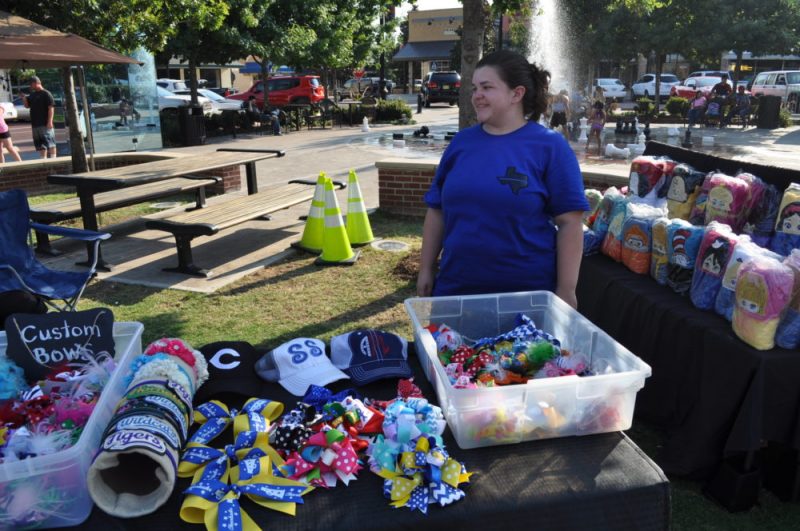 The Sewing Queens of Sulphur Springs, Janet and April Palmer, were present with an array of embroidered caps and bibs, handmade bows, headbands and more. They just opened a physical location in Sulphur Springs at 127 Gilmer Street. They do monograms and personalized hats, but they also take business orders for embroidered shirts and other business apparel.
Next was Totally Addicted, owned by Cathy Cobb. She specializes in Handmade Natural Bath and Body Products (yes, this includes the BELOVED Bath Bombs). Bath bars and bars of soap in the shape of a bundt cake caught my attention, not to mention the amazing smell at this tent. Her Bath Teas made their debut at the tent Saturday night and honestly looked, and smelled, like something you'd find in heaven.
Last on my list, but most definitely not least, was Native Traders. Native Traders is owned by an electric young woman who is a sixth generation Pueblo Indian from California. Her father is a Pueblo Indian from Dixon, New Mexico and her mother is from Thailand. She specializes in Wampum jewelry. Everything from the dreamcatchers to the elaborate necklaces are handmade and are one of a kind pieces.
This tent was one of my absolute favorites. The unique and eccentric items available in downtown are what make Sulphur Springs so special to me, the people and the vibe are something that can't be found anywhere else. Family Life Church Youth was also in attendance with their own tent, giving away cold water. With temperatures at 100 degrees, which felt a lot like 600, a cold water bottle was awesome.