Sulphur Springs ISD Teachers Attend "Daily 5" , "Daily 3" and "Cafe" Conference
Sulphur Springs Independent School District (SSISD) teachers had the opportunity to attend the Daily Five / Cafe Teacher Workshop Conference on Thursday June 23rd and 24th. Over 81 teachers, faculty and staff attended the conference the first day, and a few of the teachers and staff got to attend the second day.   The conference was held at the Inter Continental Dallas Hotel, in Addison, Texas. The Two Sisters conference, as it is commonly called, is a teacher technique workshop that focuses mostly on Reading, Writing and Language Arts skills.  The workshop also instructs teachers on how to incorporate the same techniques into their math curriculum using the Daily 3.
The
Daily 5 website
explains how the systems work. 
"
Students select from five authentic reading and writing choices, working independently toward personalized goals, while the teacher meets individual needs through whole-group and small-group instruction, as well as one-on-one conferring. These choices include
Read to Self,
Work on Writing,
Read to Someone,
Listen to Reading,
Word Work.
The benefits of The Daily 5 for teachers and schools include the following:
students develop independence, stamina, and accountability;
less time consumed by classroom management leaves more for instruction;
the framework adapts flawlessly to district-adopted curriculum and state mandates;
improves school wide literacy achievement; and
behaviors of independence transfer to other content areas."
Daily 5 has revolutionized the way teachers teach throughout the United States. Students make choices about how they learn and teachers spend more time differentiating and teaching in small groups or one- on- one than in the past. "Getting to attend the Daily 5 conference was a huge honor! The 2 sisters are the most influential forces in Education right now and being able to meet them  in person and ask questions while learning directly from them was amazing.   We even learned about things they didn't have room to put in their books." 3rd Grade SSES Teacher Laura Owens commented.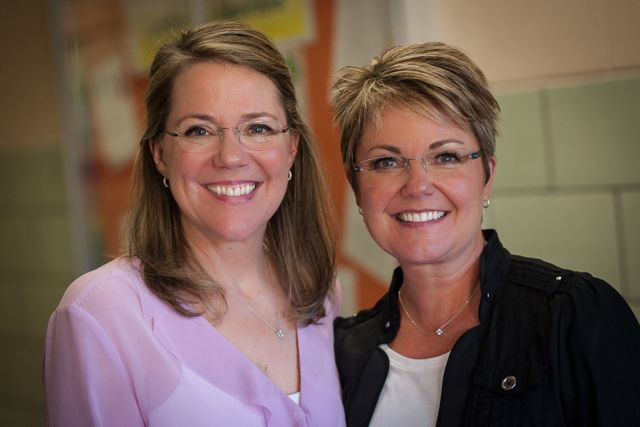 "Gail Boushey (left) and Joan Moser (right), who really are sisters, started their teaching careers in North America and now work with teachers and students throughout the world. They are elementary teachers with more than 60 years of combined instructional experience in grades K-6 and in Special Education. In addition to being classroom teachers, they have worked as a Reading Resource Specialist and a Literacy Coach. They established 
The Daily CAFE
 website
 as a resource for educators in 2008 and have continued to develop the knowledge base ever since, focusing on their shared vision: to find a reliable way to teach children how to be independent lifelong learners, starting in their earliest years. "
"We want what every teacher wants: effective teaching methods that can adapt as things change, and to lead our children to a lifetime of learning." —Gail Boushey and Joan Moser
SSISD teachers learned how to apply the Daily 5, Daily 3, and CAFE to any curriculum and student situation.  They also received teaching materials, and published and online resources that actively support the training.
Teachers and Staff that attended the conference include:
ECLC (Early Childhood Learning Center):
Kindergarten/Transitional First Grade teachers:
Nicole Johnson                                                  Maricela Resendiz
Alejandra Santana                                            Adriana Salas
Mary Surber                                                       Tammy Burnside
Kristen Downs                                                   Mickie Wilson
Stefanie Spinks                                                  Stacy Davis
Jennifer Moore                                                  Tammie Mattison
Tammi Humphries                                           Miki Koon
Sonja Bolton
Sherry Finney, Principal
Cheryl Blount, Academic Specialist
Misty Teer, Literacy Support Teacher
Lamar Primary School:
First Grade:                                                                       Second grade:
Trecia Back                                                                               Anna Hicks
Dimitri Petty                                                                             Kim Gillem
Amy Tanton                                                                               Laci Ragan
Becky Shirley
Rowena Johnson–Principal
Many Fenton—Academic Specialist
Ann-Michelle Penson—Literacy Support
Bowie Primary School  
First Grade:                                                                             Second Grade:
Kara Argenbright                                                                        Kati Adair
Karla Brown                                                                                 Cathy Gray
Lesli Ray                                                                                       Kimberly Slaughter
Millie Shultz                                                                                 Kassie Smith
Amanda Thompson                                                                    Alison Thompson
Angi Edwards-Principal
Travis Primary School:
Rhonda Brock                                                                              Amber Landers
Toni Maddox                                                                                Ana Ramirez
Kim Gideon                                                                                  Michelle Bolton
Sarah Phillips                                                                             Hannah Carrington
Kim Moore                                                                                  Susanna Sanchez
Yadira Preciado
Joanna Foster – Academic Specialist
Michelle Wallace – Principal
SSES (Sulphur Springs Elementary School) :
4th Grade:                                                                                   3rd Grade:
Laura Smith                                                                                        Cris Hughes
Alyssa Payne                                                                                       Shelby Gammill
Shelby Harrelson                                                                               Amanda Fowler
Carmen Contreras                                                                             Laura Owens
Whitney Vaughan                                                                              Donna Terwilliger
Jessica Gilbert                                                                                    Sulema Martinez
Rachel Tubb                                                                                        Ruth Bradshaw Starcener
Chandra Maddox                                                                               Kim Coleman- 3rd Math
Jody Leeds- RTI/Testing Coordinator                                          Ashanta Alexander-Principal
Douglas Intermediate School:
Teachers attended  both Daily 5 and the CAFE training:
Megan Wiggins                                                                                  Holly Willis
Shelley Burton                                                                                    Kristin McKinney
Melissa Johnson                                                                                Sonya Mathews
Natalie White                                                                                     Leesha Strawn
Nichole Petty                                                                                      Sandy Stidham
Holly Folmar, Principal
Both Mackenzie Cross SSISD Technology Specialist and Misty Teer a ECLC Literacy support teacher, attended both days
July 23 and 24
.
SSISD teachers and staff would like to extend a special thank you to Lisa Robinson, SSISD Curriculum Coordinator, and Kristin Monk, SSISD Assistant Superintendent of Elementary Education, both of whom were responsible for organizing all of the local details in order to plan the trip to the conference.