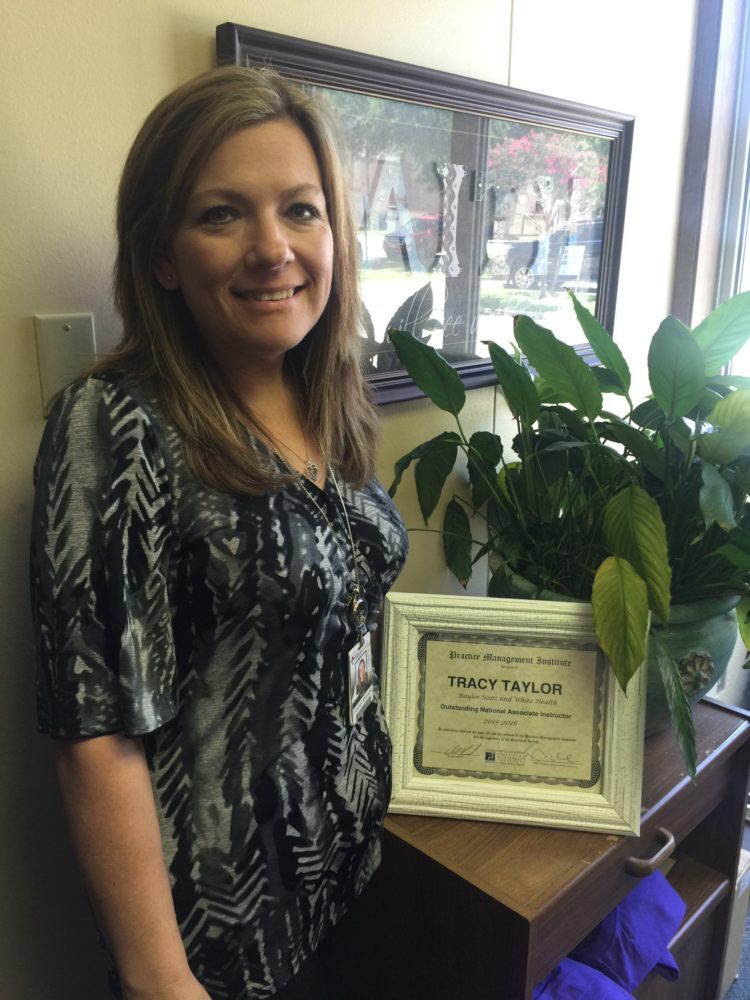 Practice Management Institute has named Tracy Taylor, Practice Manager with Memorial Clinic in Sulphur Springs, TX, its 2015-2016 Outstanding National Associate Instructor.  The award was presented during an industry-wide ceremony held recently at the Astor Crowne in New Orleans, LA.
Ms. Taylor was selected from among numerous PMI instructors located throughout the continental US who teach practice-based education and credentialing courses to physicians and medical office personnel at the local and regional level.
She continues to be recognized by PMI for her commitment to education and advanced learning scenarios in support of the physician and medical office staff member. She is credited as being an exceptional instructor, and an innovator among her peers in her efforts to create credentialing and networking opportunities for medical office professionals.
"Tracy is a force of nature, and it's a pleasure for us to acknowledge her in this way.  Her commitment to education is unrivaled." said Michael Moore, Vice President of Business Development for PMI.
"Tracy Taylor has by example taken the role of instructor to the next level.  Her ability to utilize education as a vehicle for the brighter future of her students and peers is second to none.  It's what other individuals in her role around the country are wanting to achieve." said Moore.
Since 1949, Hopkins County Memorial Hospital, a 96 bed facility, has served the citizens of Hopkins County.  Memorial Hospital is dedicated to providing medical care to the 30,000 residents who live within the 800 square miles of Hopkins County and surrounding areas.  Their commitment is offer high quality hospital and physician services that meet the healthcare needs of their patients.
Practice Management Institute® (PMI) is the training, networking and credentialing source for medical office professionals. For more than 30 years, physicians and their staff have looked to PMI for skills that contribute to a more efficient, profitable and compliant office.