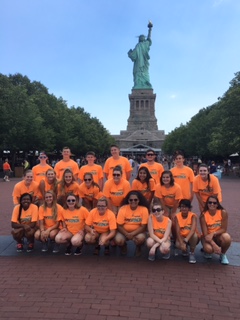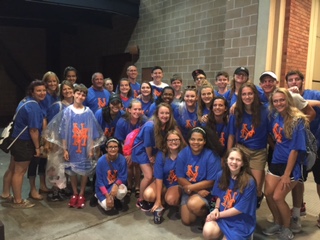 Two dozen Hopkins County "Haystack" high-school singers got a taste of the Big Apple during an Independence season trip to New York City. The town was still festooned with red, white and blue when the group arrived on July 5. They discovered that though New York is fiercely American, it is also an international mecca where flags, dialects and symbols of cultural pride are on display.
The travel group headquartered at The Row NY Hotel on 8th Avenue in a neighborhood near Broadway and Times Square. They discovered subway travel, digital billboards looming above, crowded sidewalks and a smorgasbord of restaurants. They would do some shopping and sightseeing, and a lot of walking and singing. They would meet with an appreciation and acceptance of their gift of music to the city.  In fact, a welcome much larger than might have been imagined was awaiting them on Day 4 of the trip. As the nation was mourning the shootings of police officers in Dallas, Texas, a wave of sympathy was expressed by people when they found out the young singers were Texans. Everywhere the group sang that day, including the U.N. building, individuals came up and expressed sorrow for the tragedy. It turned out to be an opportune time to be "goodwill ambassadors" from Texas.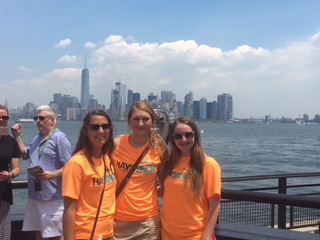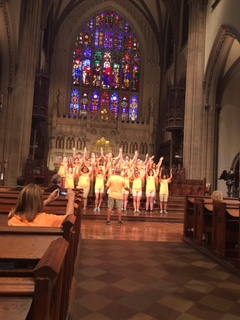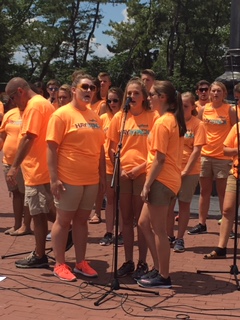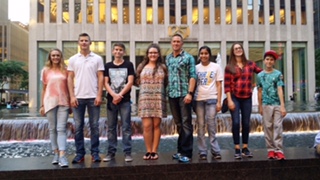 Haystack Choir director Kevin Wooley and his wife Juli organized the trip for the enjoyment and enrichment of the youth members. Eleven adult sponsors kept pace with the teens to visit the Empire State Building, Statue of Liberty, Ellis Island, Battery Park, historic Trinity Church, the Ground Zero Memorial and St. Paul Chapel, Central Park, Times Square, Good Morning America and Today Show sets, Rockefeller Center, New York Public Library, Grand Central Station, the United Nations building, Broadway's "Alladin" and a game at NY Mets stadium. The choir presented free concerts for onlookers at several locations. In turn, the singers were impressed by New Yorkers who turned out to be helpful and hospitable, making for a positive, fun experience in "the city". Now, a Haystack Choir trip to another exciting location is being planned for 2017.  Keep reading for some "fun facts" about NYC!
 HAYSTACK (Hopkins Area Youth Singing to Anoint Christ King) members on the trip: 
Matthew Gurley – Saltillo – Son of Blake and Donna Gurley
Russell Edwards – Sulphur Springs – Son of Steve and Robin Edwards
Clayton Wilson – Saltillo – Son of Amy Wilson
Joseph Baxley – Sulphur Springs – Son of Steve and Sharon Baxley
Collin Eenigenburg – Rains – Son of Michelle and Brennan Potts
Michael Simmons – Saltillo – Son of Mike Simmons and Sharon Simmons
Mason McGill – Saltillo – Daughter of Ashley McGill and Jason Cravy
Sydnee Hawkins – Sulphur Springs – Daughter of Susan Mooney and John Mooney
Selena Hernandez – Saltillo – Daughter of Jesus Hernandez
Esperanza Deterding – North Hopkins – Daughter of Bryan and Zulma Deterding
Maddie Kate Boshears – Sulphur Springs – Daughter of Randy and Jackie Chester
Caitlin Weatheread – North Hopkins – Daughter of Misty Maynard and Keith Weathered
Carissa Carter – Sulphur Springs – Daughter of Jackie Carter
Christie Gurley – Saltillo – Daughter of Blake and Donna Gurley
Christy Marquez – Saltillo – Daughter of Carlos and Magy Marquez
Jordan Sustaire – Saltillo – Daughter of Mark and Amy Sustaire
Sienna Collins – Saltillo – Daughter of Mike and Debbie Collins
Rainie English – Saltillo – Daughter of Jeff and Jeri English
Lindsay Butler – Saltillo – Daughter of Emmett and Becky Butler
Shelby Matlock – Saltillo – Daughter of Matt and Tammy Matlock
Breanna Reynolds – Saltillo – Daughter of Wanda Self
Madison Simmons – Saltillo – Daughter of Mike Simmons and Sharon Simmons
 

Here's a few fun facts discovered by the choir during the New York City trip.

*Did you know there is a "whispering arch" inside the domed underpass foyers at Grand Central Station? To experiment, just speak at a normal volume into the corner of the wall, and have a friend listen in the diagonal corner. Your "whisper" can be heard distinctly although 10 meters away! The stone walls and ceiling do a perfect job of reflecting the sound.

*Did you know that the popular New Amsterdam Theater on Broadway was the original home of the Ziegfeld Follies? The historic 1902 venue was renovated by the Walt Disney Company in 1997, making it the flagship for Disney's theatrical productions on Broadway. The New Amsterdam is one of 40 playhouses in New York City representing the highest level of commercial theater in the English-speaking world.

*Did you know that Manhattan's Wall Street claims a church that was once the tallest building in New York City? The Trinity Church 281-foot spire and cross topped the city's skyline until 1869. It's massive, original pipe organ was damaged by smoke in the 9-11 attacks, and a virtual pipe organ was installed in 2015.

*Did you know that a Gutenberg Bible is on display at the New York City Public Library? The beautiful volume is one of 49 surviving copies of this Bible, the first major book printed using mass-produced movable type.

*Did you know that across the street from the site of the World Trade Center's Twin Towers is a Colonial-era chapel where George Washington worshiped? And did you know that in the hours following the 9-11 terrorist attacks, St. Paul Chapel's doors were opened to Ground Zero rescue and relief workers, providing beds, food, encouragement and love for weeks following the disaster? In the midst of the devastation, not even a window of the chapel was damaged.

*Did you know that despite it's once lawless and dangerous reputation, New York's 843-acre Central Park was originally created in 1857 to "improve public health and contribute to the formation of a civil society"? Today, a conservancy manages and maintains it's forests, lakes and streams, recreational and play areas for 40 million visitors annually.