Mostly freshmen members of the percussion group and all of the thirteen-member Color Guard for the Wildcats Marching Band are in camps this week to give them a head start for the start of summer band practice, which begins Monday. It's the second week of camp for percussion members and the first week for Color Guard members.
Zander Smith, the school district's Strings Director, is helping Percussion Director Jeffrey Garza, with percussion camp. Smith says he is teaching the mostly freshmen group how to march. He notes drumline members have to learn a specific technique since they march differently than other band members due to the heavy weights they must carry. The percussion camp is featuring not only marching but also working on the music that must be learned. Also helping is senior Sam Robinson, the band's Drumline Section Leader. He notes that progress is being made. After a few mishaps early, Robinson says the young band members are now getting it. Robinson feels this year's drumline will be the best since he has been here.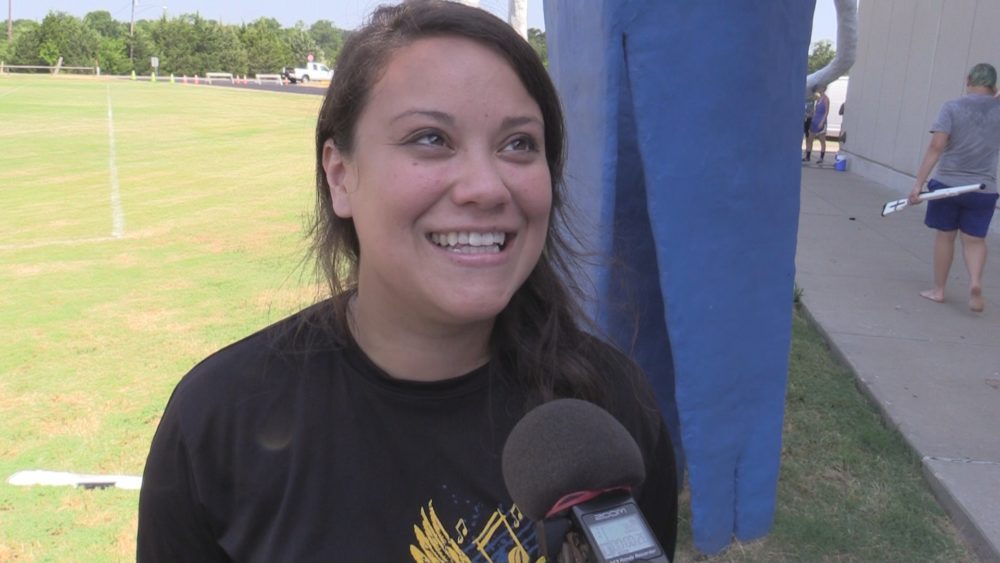 Meanwhile Assistant Band Director Jennifer Turner was busy working with the thirteen-member Color Guard Tuesday. After watching them struggle in the heat during rifle twirling drills, she decided to handle dropped rifles by squirting those involved with water from a nozzled water hose. She admits some guard members dropped rifles at first just to get squirted. Some members that did not wish to get wet were put in a dry zone. Color Guard members will also be working with flags and on their routines for the fall show during camp this week. This year's Color Guard is a young one featuring only two seniors.