Chamber Connection-July 21st
I have something wonderful to share with YOU!!! Next Thursday night, July 28th, at 6:30 p.m., a spectacular event is being held on Celebration Plaza. This event will be a time of singing and praise to promote healing and unity in a time where our hearts are heavy ladened. We are trying to fill the square, so make plans to be there! It will be wonderful! And…. more huge news! The Chamber is hosting their first annual Hopkins County Chamber of Commerce Photography Contest. The contest will start on August 1st, will end on August 31st, and will be open to all ages. There are seven categories you may enter: Natural World Travel, People, The Hopkins County Experience, Altered Images, Mobile, and Children's Category. All pictures must be taken in Hopkins County and must be newer than January 1st, 2014. I can't wait to see the wonderful pictures that will be entered! More information will be available soon on our website.
Wesley United Methodist Church selling t-shirts and bracelets for Team Eisley
Wesley United Methodist Church is selling t-shirts and snap bracelets to help raise medical funds for Eisley Henderson. Eisley is the daughter of Timmy and Magan Henderson. The t-shirts and bracelets are now available at Wesley. They will also be sold on Saturdays at the Celebration Market. Cost of the t-shirt is $20, and the bracelets are $5.
Ribbon Cutting for Fox & Fig was held on Wednesday, July 20th at noon
Fox & Fig, a new store specializing in farmhouse, vintage, and unique décor and furniture, hosted a ribbon cutting at noon on Wednesday, July 20th. The darling shop was packed with enthusiastic people. Everyone made 'pre-grand opening' purchases. They are located at 624 Main Street, across from Travis Elementary play- ground, and next door to Sulphur Springs Centre for Dance. Fox & Fig's official grand opening day is Saturday, July 30th. Please stop in and check out this beautiful new business! Food will be catered and you'll enjoy browsing. See you there!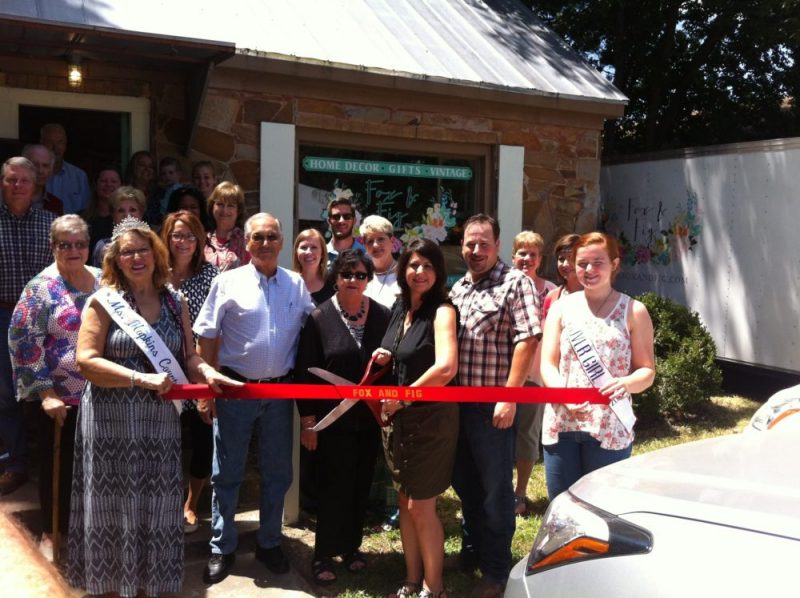 Schlotzsky's hosted a Ribbon Cutting on Wednesday, July 20th at 5 p.m.
The Chamber welcomed Schlotzsky's Café and Bakery to Hopkins County with a ribbon cutting on Wednesday, July 20th at 5 p.m. The food was delicious; the people were friendly and prepared; and the facility is wonderful. They held their Grand Opening to the public today, Thursday, July 21st. The first 100 customers that bought a six pack of Cinnabon's got a free sandwich every week for a year! And now, they are open for business! Schlotzsky's is located at 1050 Gilmer Street. Schlotzsky's offers a variety of sandwiches, soups, pizza, and Cinnabon cinnamon rolls. Hours of operation are scheduled to be Monday through Sunday 10 a.m. to 10 p.m. Make sure to stop in for a treat!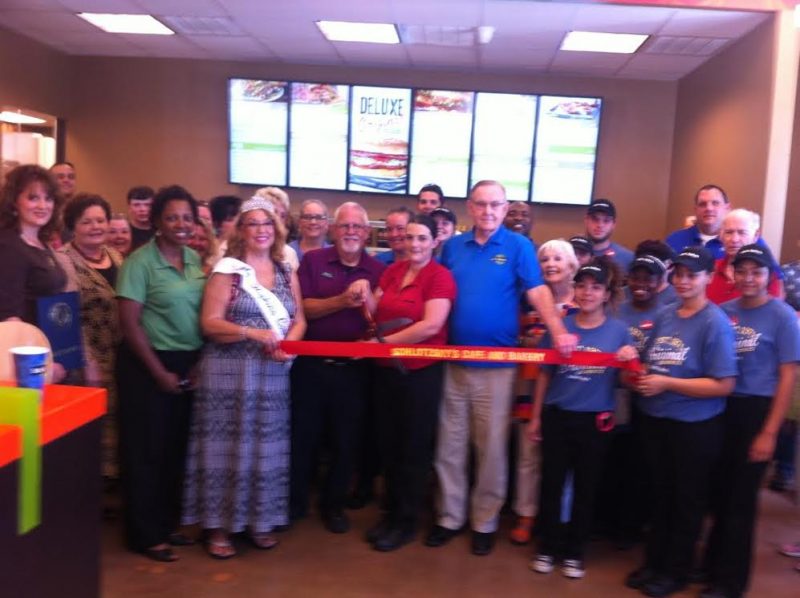 Danna's and The Florist will host a Trunk Show for Nikko Blu jewelry on July 21st from 6 – 8 p.m.
Nikko Blu jewelry will be featured at a Trunk Show on Thursday, July 21st at The Event, 438A Gilmer Street, from 6 p.m. to 8 p.m. The Trunk Show is hosted by Danna's and The Florist. Bring a friend and enjoy mimosas, giveaways, and great company!
Community Players and Children's Summer Workshop present Alice in Zombieland July 21-31
Main Street Theatre will host the Community Players and Children's Summer Workshop's presentations of Alice in Zombieland on Thursday, July 21st, Friday July 22nd, and Saturday, July 23rd at 7 p.m. The Sunday matinee showing on July 24th will be held at 2 p.m. This presentation will run through July 31st following the Thursday through Saturday times and the Sunday matinee times. Main Street Theatre is located at 227 Main Street. Tickets are available online at www.mainsttheatre.com or by phone at (903)-885-0107.
Cricket Wireless hosts a "Give Back Night" for Bryan Hosking on July 30th from 6 p.m. to 10 p.m.
10% of all proceeds from Muddy Jakes on the night of Saturday, July 30th, will be given to Bryan Hosking to assist with medical expenses. Bryan was diagnosed with Leukemia, and Cricket Wireless saw a need and made something happen! Please plan to eat at Muddy Jake's that night to support Cricket Wireless and Bryan Hosking.
One Way Auto will host a ribbon cutting on Tuesday, August 2nd at noon
One Way Auto, the newest member of the Chamber of Commerce, will host a ribbon cutting on Tuesday, August 2nd at noon. One Way Auto is located at 900 Gilmer Street. Please plan to come by and support our new local business.
Adult Leadership Class being offered for the Fall! Sign up Now!!!
Lynda Hager reported that she would be offering an Adult Leadership Class starting in August for anyone who is interested. The Adult Leadership Class is a community leadership development program sponsored by the Hopkins county Chamber of Commerce. The course was created in 1989 with the concept of offering leadership training and community involvement for emerging business and community leaders. Leadership Sulphur Springs is a nine-month session, with meetings held once a month. For more information, please call the Chamber of Commerce at 903-885-6515.
New members to the Chamber of Commerce:
We are excited to welcome Clint Lewis and One Way Auto to the Hopkins County Chamber of Commerce. They are located at 900 Gilmer Street in Sulphur Springs and specialize in used automobiles.
Celebration Plaza's Friday night movie will be The Good Dinosaur at 8 p.m. Saturday morning, Yoga on the Square will be offered from 9 a.m. to 10:00 a.m. The Celebration Market will be held on Celebration Plaza from 6-10 p.m. A concert will be held at City Hall by singers Tony Ramey and Matt Dunn at 7 p.m. Moore's Code, and horn and jazz band, will provide entertainment on Celebration Plaza.
Lezley Brown
President/CEO
Hopkins County Chamber of Commerce
300 Connally Street
Sulphur Springs, TX 75482
903-885-6515
903-885-6516 (fax)