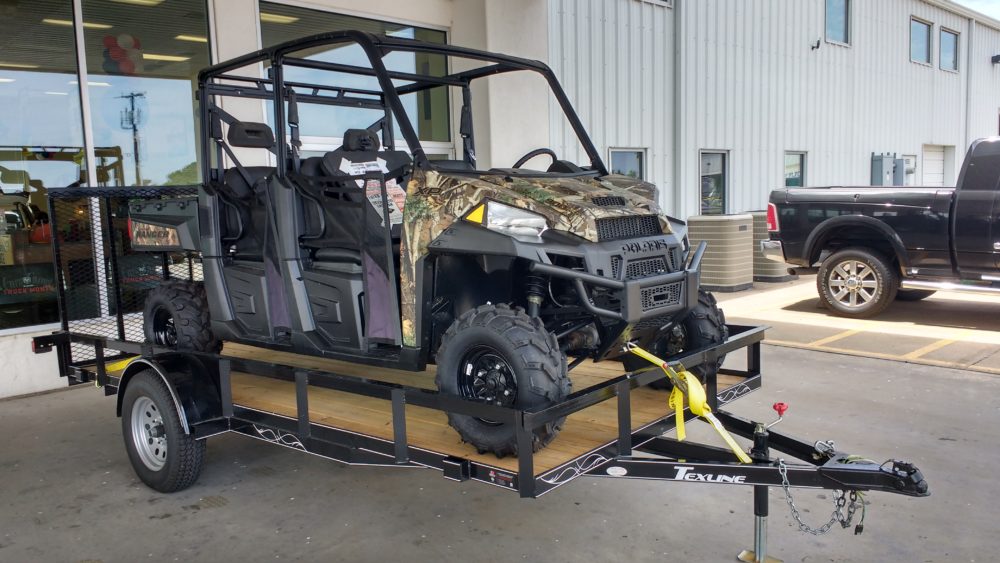 During Hot August Night will be giving away a four-wheel Polaris ATV with A1 trailer, courtesy of NorTex Tractor, on Friday, August 12 and Saturday the 13. The event will take place at the Hopkins County Civic Center Fair Grounds and Arena. "The 10th Annual Hot August Night raffle prize, which will benefit volunteer fire departments, is a brand new Polaris side by side camo, 900 crew automatic transmission, power steering four wheel drive ATV, that sits on a trailer from A1 trailer sales which is a cargo trailer with a ramp," Craig Morgan, volunteer fireman, said. "Tickets are being sold at five dollars each which will be given away at the Hot August Night firefighter benefit this year. All of the proceeds benefit nine volunteer fire departments here in Hopkins County."
This is the tenth year for Hot August Night, a benefit used solely to help volunteer fire departments. Hot August Night will feature a BBQ Cook-Off, which is expected to have over 50 BBQ teams competing. Saturday, August 13 will also have a concert with Steven Curtis Chapman and Third Day called the 2016 SCC3D Tour. "That'll be the largest concert this region has ever seen," Morgan said. "We expect 4,500 people inside the Civic Center Rodeo Arena for that event, again all benefiting the nine volunteer fire departments."
For the 10th anniversary of Hot August Night, the 25th anniversary addition of the Scott Firefighter Combat Challenge will also be held on Friday and Saturday which is shown every year on ESPN. "ESPN calls it 'The toughest two minutes in sports,'" Morgan said. "Firefighters will compete solo on August 12 and then in teams on August 13. They'll compete on a combat challenge course and do things like drag a rescue dummy 106 feet backwards, and climb a four story tower wearing hoses on their back. It's all done for time and it's daily things that firefighters would do."
The Scott Firefighter Combat Challenge is a national competition with firefighters from five different states expected to compete. Several hundred firefighters will be coming from the Dallas Metroplex, according to Morgan. After the first night of the Combat Challenge, the Celebration Plaza will be closed off later that same night for the concert performance of Luke Pell, a contestant in "The Bachelorette" and a country artist. Restaurants in the downtown area will be open that night to serve food for the firefighters.
On Saturday, firefighters will meet at the Hopkins County Civic Center for a formal opening ceremony with firefighters in full uniform Presenting the Colors. There will also be a pipe and drum corp. from the Metroplex fire departments for the opening ceremony before the second day of the Combat Challenge which will begin at noon. "All day Saturday, the culmination of this entire event is the BBQ, and there will be BBQ teams setting up their pits on Friday," Morgan said. "On Saturday, all day long, they will be cooking their meats. We'll have different categories that are judged, and then at five o'clock that afternoon the public can buy a wristband which includes admission to see Steven Curtis Chapman and Third Day together in concert. They are also able to grab a plate and start walking around the Civic Center grounds and eat all of the BBQ."
Hot August Night has generally been a success in the past with last year's event raising roughly $2,000 for each volunteer fire department. This was also the first year that Hot August Night chose to perform with Contemporary Christian music instead of Country music. "This year, with the scope of the entertainment that we have coming, they are on a ten-city tour and they chose Sulphur Springs to come and help us out with this benefit. We're looking at considerably larger checks. The caliber of guys coming here, they have 80 #1 songs on the Christian charts, they've had 20 million albums sold between the two of them, and nine Grammy Awards. They're no strangers to contemporary Christian music, and we expect to be a big draw-in, and hence, big reward for the fire departments."
That night, during the concert performance of Chapman and Third Day, the winning ticket for the ATV and A1 trailer giveaway will be announced on stage. Tickets for the ATV giveaway can be bought for $5 at either Sulphur Springs Dodge or from any Hopkins County Volunteer Fireman.