by Allison Bledsoe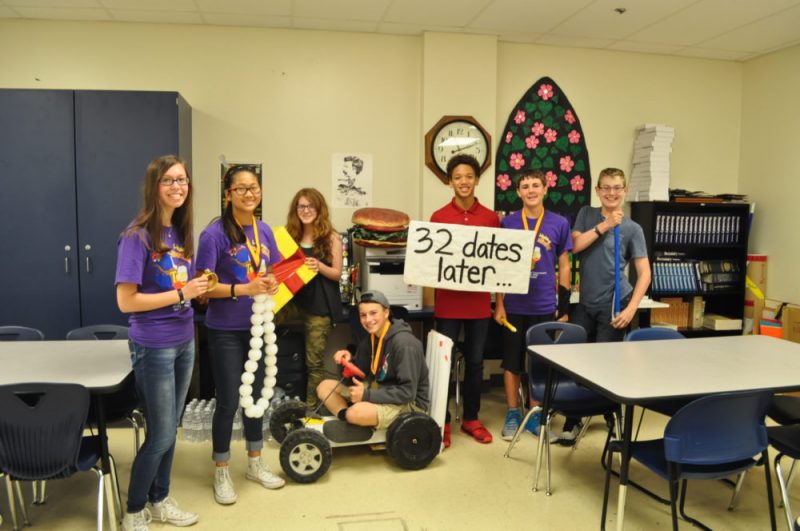 Destination Imagination is a very unique, non-profit organization that challenges student's problem solving skills and fosters creativity. Student teams are given open-ended academic challenges in science, technology, engineering, mathematics, fine arts, and service learning. After given months to prepare and time to propose a solution, teams showcase their solutions to the "Challenges" at a tournament.  Each individual team has a Team Manager that is an adult. The Team Manager doesn't interfere or assist with the team's project, but helps them stay on track. Sulphur Springs Middle School's Technical DI team consists of Chase Berry, Brayden Wooten, Mady Posey, Madison Garner, Andrew Westlund, Mariam Tran, Dawson Carpenter, and their Team Managers Clay Hansford and Chip Vaughn.
The Sulphur Springs Middle School Technical DI team went to Global competition last week in Knoxville, Tennessee and won first place in a field of 77 teams from 21 different countries around the world. The team was given an open ended challenge that consisted of them needing to create a vehicle that is propelled by two different systems using two different methods, be able to make 40 trips of 14 ft 1 in, carry a single team member, and incorporate that vehicle into a story they make up themselves. Their solution to get across the 14 ft included building a ramp that their vehicle, a piece of wood that one of their team members sat in with a motor attached to the bottom and ball bearing casters that helped the vehicle go any place it was guided. So, the motor helped the vehicle go up the ramp and the casters allowed it to roll back down. The team was allotted 20 extra points for using ball bearing casters because technically, the team didn't use wheels.  The team had the highest scoring vehicle at Global competition. For the story, the team came up with a love story between two cellphones that communicated with emojis carried by the vehicle. With this solution, the team won first place at East Texas Regional, second place at State competition in Anna, Texas, and then won first place at Global competition.
The students had 8 minutes to set up and complete their story with at least 40 trips or "text messages". They completed all that was required of their performance in 7 minutes and 59 seconds. During the performance each student had a unique and specific job, a student was placed inside each cellphone, one music technician\clergyman performed, there was one student who rode on the vehicle to deliver the messages, and a student who flipped the vehicle in the right direction. In addition to the Challenge that the students are given months to prepare for, they are also faced with an Instant Challenge that accounts for a quarter of the teams overall score. Typically, it's some sort of building, hands on challenge or an acting\verbal challenge. These Instant Challenges test the team's ability to work together and exhibit their problem solving skills.
At the competition the students learn additional skills, such as economics and bartering. Students from all teams come to competitions with pins that they have designed themselves and\or ordered from their affiliates. During the course of the meet the students interact with each other and trade pins they've made or acquired. Some pins go up in value due to rarity, etc.
These students were the first Destination Imagination team from Sulphur Springs to ever win Global Competition. They began working on their solution to the Challenge in November and began competing in February. The team members that will be moving on to Sulphur Springs High School next year aspire to start up a high school level team.