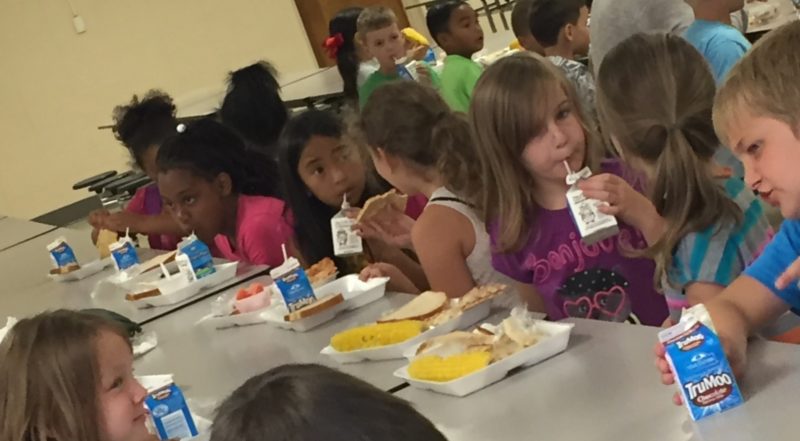 Veronica Arnold is the new Director of Food Service for SSISD. She succeeds Rikki Elliott who held the position for 41 years. Her first duty was the Summer Food Service, which is in full swing now.
The SSISD Summer Food Service Program is a USDA-sponsored program administered by the Texas Department of Agriculture. It is served in the cafeteria of Sulphur Springs Elementary School at 829 Bell Street. Meals are served four days each week, Monday through Thursday, from June 7 through July 28. Breakfast is served from 7:45am til 8:30am, and lunch is served from 10:45am til 12:30pm. Any child through age 18 may receive the free meals with no registration or proof of income required. Menus are provided on the school website, ssisd.net under the Cafeteria Menus heading.
Each day, the 4-person staff serves between 100-150 youngsters. Youngster who come to enjoy the meals include children who live in the community, Summer School students and YMCA Camp participants. This year, SSISD has partnered with Greenville YMCA to facilitate the summer day camp on the Bell Street campus.
"Mrs. Arnold", as she is known by her former Math students, admits she had some big shoes to fill when taking the food service position. She is not new to it, however, because she was once "Mrs Rikki's" assistant during the time she was completing her teaching degree. After several years teaching Math to Douglas and Middle School students, she decided to return to the food and nutrition part of education. Veronica is a native of Hunt County. She graduated from Quinlan High School and was employed in Greenville before coming to work in SSISD in 2002.