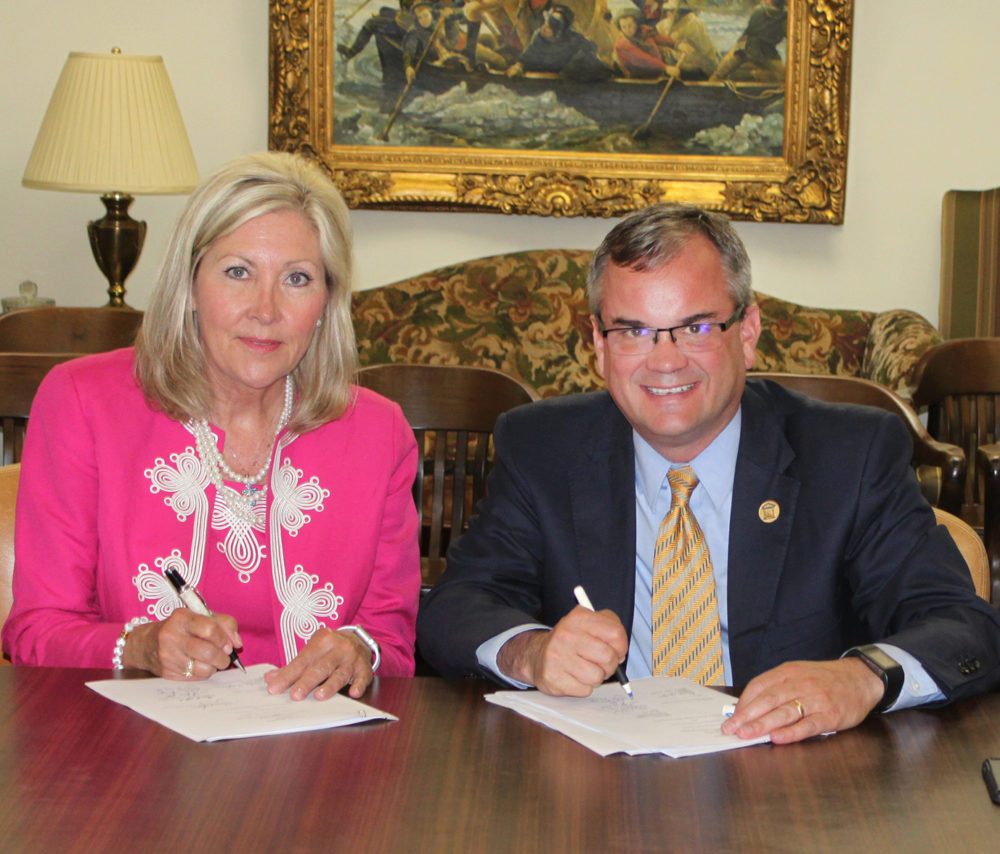 Paris Junior College and Southeastern Oklahoma State University strengthened their relationship Tuesday with the signing of an agreement that will assist transfer students.
This 2+2 articulation agreement allows a seamless transition for students transferring from PJC into seven additional programs at Southeastern: Chemistry, Criminal Justice Major-Minor, Elementary Education, Hospitality Management, Recreation, Spanish, and Special Education.
Signing the agreement during a ceremony Tuesday were PJC president Dr. Pamela Anglin and Southeastern president Sean Burrage.
"Paris Junior College values our agreements with Southeastern and is proud to promote the transfer opportunity to our students," said Dr. Anglin. "Today's agreement provides additional articulated transfer opportunities for PJC students. It is good for our students and good for the region."
"Paris Junior College and Southeastern Oklahoma State University are all about providing opportunities for students,'' Burrage said.  "That is what this articulation agreement is all about. It provides the opportunity for more students to pursue their higher education goals. We are proud to be a part of that.''
Paris Junior College serves over 5,000 students in northeast Texas in Lamar, Red River, Delta, Hunt and Hopkins counties and has provided quality education since 1924. PJC provides academic transfer and workforce training classes and programs. For more information, go to www.parisjc.edu.
Southeastern has similar articulation agreements with 16 other junior/community colleges in Oklahoma and Texas.
With an enrollment of 4,000 students, Southeastern's main campus is located in Durant, Oklahoma, with a branch campus in McCurtain County (Idabel, Oklahoma). Various programs are offered at seven other locations in Oklahoma and Texas.
The University, which offers 38 bachelor's degree programs and 13 master's degree programs, is nationally known for such fields of study as Aviation, Business, Elementary Education, and Occupational Safety & Health.