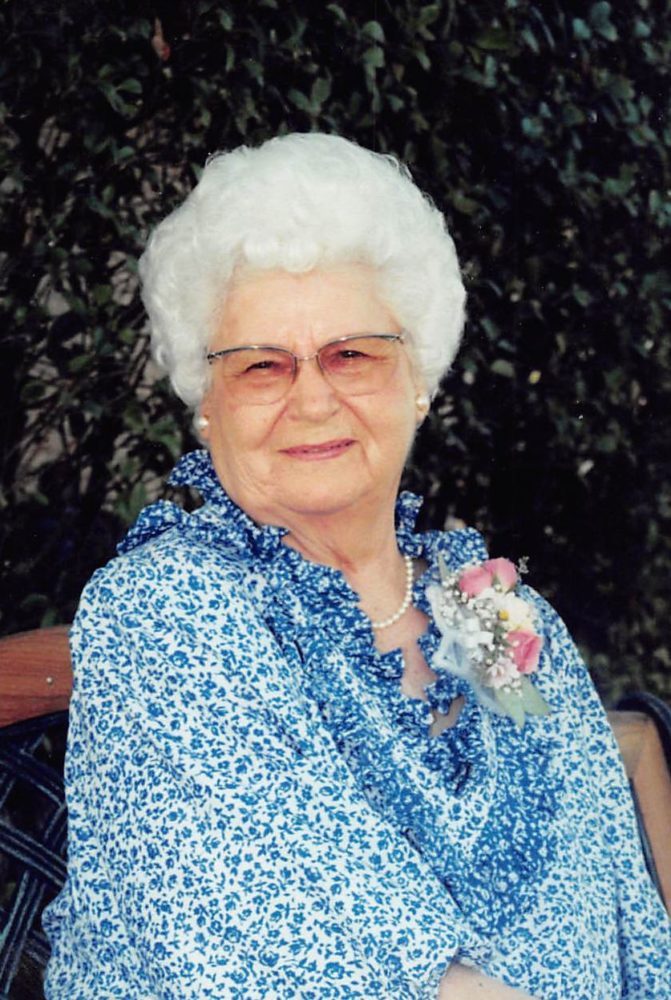 Lois Miller, age 94, of Sulphur Springs passed away on Mon, June 6, 2016. She was born July 4, 1921, one of eleven children born to the late Lawrence and Minnie Goldsmith Cavender. She married C. M. Miller, Jr, October 15, 1938. Together they farmed and ranched in the Gunter area and later bought farm and ranch land near Van Alstyne, Texas, that provided beautiful grassland for the Herford cattle and wheat crops. They were very active leaders in the Gunter community and College Hill Church. They had a bountiful garden that Lois always preserved to serve with her famous fried chicken and chocolate pies. When she was not cooking, she was sewing for her girls making everything they wore–from satin majorette uniforms to their formals. C. M passed away January 16, 1996. Lois began traveling with her high school friend, Edna Clark, and together with other friends from Sherman they toured Switzerland, Germany and especially Austria to see where the Sound of Music was filmed. She loved going to Branson, the Big Bend Country and the Fall Leaf Tours. Lois moved to Sulphur springs in 2002 to be near family. It didn't take her long with her sweet spirit and love of others that she had made many friends. One special friend, Essie Pearson, that rarely missed a daily visit. She so enjoyed her Care Group as a member of Shannon oaks Church. After a fall in 206 and needing special care, Tasha Webb, began not only helping care for her physical needs, she became like a daughter that cared for her until she passed away this week. She will be forever remembered for her love of family and her love for her many friends and the way she made everyone feel special.
Lois is survived by two daughters: Deloris Elliott and husband Roger of Sulphur Springs and Judy Doggett and husband Gary of Houston. Grandchildren: Tim Elliott and wife Jamie of heath; Jeff Doggett of Houston; Chris Doggett and wife Karen of Frisco; and Traci Denton and husband Chad of Austin. Grandchildren: Regan and Sophie Elliott, Taylor, Lexie and Colton Doggett, Grant and Claire Denton.
Also surviving is her brother, George Cavender and wife Frankie of Howe. Numerous nieces and nephews also survive. Also, a special friend John Scott Rogers of Gunter.
A special thank you is given to the high school medical students that came every Monday morning to visit and play games. She so looked forward to seeing all of them. And to the David and Pam Black family that she grew to love like family. The family would like to express our deep gratitude for the loving and compassionate care from the staff at Carriage House Country Cottage–Legacy Hospice and a special thank you to Dr. Darren Arnecke with whom she had a unique relationship. Pallbearers will be grandsons and great-grandsons. Honorary pallbearers will be her nephews and nieces. Visitation will be from 5 p.m. until 7 p.m. Tuesday, June 7 at West Oaks Funeral Home followed by a Memorial Service beginning at 7 p.m. Graveside services will be held at 11 a.m. Wednesday June 8, 2016 at City Cemetery in Van Alstyne.
Arrangements are under the direction of West Oaks Funeral Home.