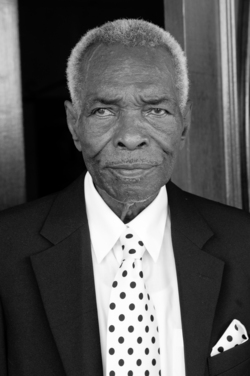 Funeral Services for Jewel (Joe) Hynson will be conducted Saturday, June 11, 2016 at 2 p.m. in Troy B. Smith Professional Services Chapel, 9013 Scott Street, Houston. Visitation will be one hour before services. Burial will take place in Houston Memorial Gardens, 2426 Cullen Blvd, Houston.
Jewel (Joe) Hynson the son of Roland George Hynson and Mirture Alley Hynson was born on April 17, 1933 in Sulphur Springs, Texas
Joe went to Douglas High School. Joe left Sulphur Springs to enter the military in 1951. Upon his honorable discharge, he married Freddie Marie Hall of Sulphur Springs, Texas and moved to Houston, Texas.
After relocating to Houston, Joe had a successful career as a car salesman in Houston and the surrounding areas.
Joe's favorite pastime was playing cards, dominoes, barbequing and spending quality time with his family. Joe was known for his outgoing personality which can only be described as "one of a kind".
Joe made his transition on June 2, 2016. There to greet him upon arrival in eternity is his mother, Mirtrue Hynson; father, Roland George Hynson; brothers, Harold Hynson and James Hynson; wife Freddie Hynson; daughter, Vickie Malloy and grandson, Nicholas Leonard.
Left to cherish his memory are his daughters, Courtney Hunson, Janice Hynson Dial (Abe) and LeCrescia Lloyd (Cedric); sons, Corey Hynson and Danny Hynson; grandsons, Christopher Hunson (Toneisha) and Donald Hynson, Sr. (lori), sisters, Rosenary Nash, Vera Dial and Dorothy Williams (Thomas); brother, Charles Hynson (Charlletta) and a host of nieces, nephews, grandchildren, great grandchildren and other friends.