For 14 years, you've seen this familiar face emceeing and conducting from the podium during the annual Independence Symphony Concerts in Sulphur Springs, coaxing and wringing the utmost energy and passion from every player on the stage.  Who is this artist and where does he come from? Let's find out a bit more about the man.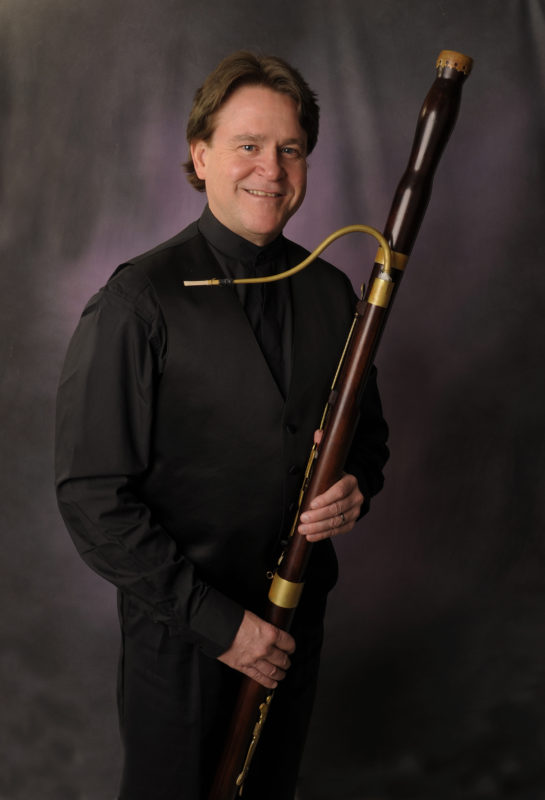 Meet Dr. Douglas Bakenhaus, Music Director and Conductor of the Natchitoches-Northwestern Symphony Orchestra at Northwestern State University of Louisiana. He teaches bassoon, music theory, aural skills and conducting. His music degrees are from University of Texas at Austin (Doctor of Musical Arts and Bachelor of Music Education) and from Texas A and M University-Commerce (Master of Music) with additional graduate courses in conducting at University of Michigan. He served as Music Director of the Austin Philharmonic Orchestra from 2001 til 2004, and began as conductor of the Northeast Texas Symphony Orchestra in 2002. He also taught music in high schools and universities earlier in his career.
How did he get started in such a unique career? Well, he attributes it to a school visit by an orchestra when he was in 4th grade in the Houston area. He remembers watching the bows of the violins at work, and the sound that the various instruments made. The next year, a band director came to his 5th grade classroom and asked for students interested in band. At first he hesitated, but at the last minute asked permission by the teacher to go with the group. He found himself playing clarinet in 6th grade band and in 8th grade, became the band's only bassoon player. As an Aldine High School senior, his band director suggested he attended an audition for bassoon scheduled by the University of Texas. He did, earned a scholarship, and began undergraduate studies at UT Austin. Then, because of the need to produce more income for his young family, he dropped his studies and for about 10 years taught public high school orchestra. In time, he found his way to East Texas State University in Commerce, Texas and assisted Gary Hill, Band Director at the time who would become one of the most important mentors in his professional life. Later after earning his doctorate, he landed the position of Music Director and Conductor of the Northwestern University Symphony Orchestra at Natchitoches. About this same time, he became involved with the Northeast Texas Symphony Orchestra's annual Children's Concert, and later was hired as conductor. He followed Scott York, the original conductor and the one who recruited Bakenhaus for the position. He has seen the Symphony go from a three-town ownership to being managed solely by the Sulphur Springs Symphony League. During this year's 25th anniversary year of the orchestra, he applauds the League's devotion to providing this caliber of music for the community.
Today, Dr. Bakenhaus teaches full time at Northwestern Louisiana University, also appearing as guest conductor and clinician with orchestras in numerous countries including Canada, Honduras, Slovakia and the Czech Republic. He is frequently called upon to adjudicate and clinic orchestra festivals, band festivals, and solo/ensemble festivals across the U.S. and abroad.  For him, the chance involvement with orchestra music at an early age, plus the knowledge that students who play instruments in school earn higher test scores, keep his passion fresh and alive for bringing music to public school children everywhere that he can.  Invite your family and friends to the free public concert on Saturday July 2 in downtown Sulphur Springs and "let freedom ring" with orchestra music and fireworks!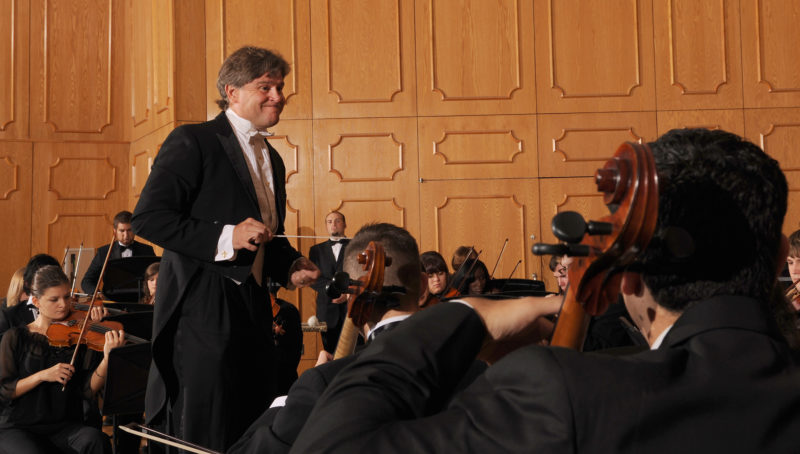 Dr. Bakenhaus conducting the Austin Baroche Orchestra in 2016 and in Sulphur Springs with the Northeast Texas Symphony Orchestra in 2015.