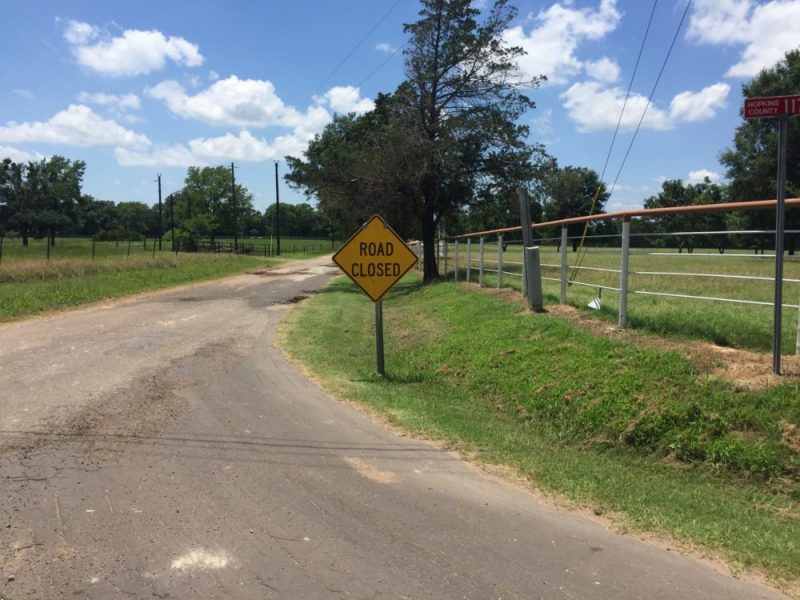 County Road 1170 is now open according to County Commissioner Precinct 1 Beth Wisenbaker.
County Road 1170 in Precinct 1 of Hopkins County has been closed since June 20th due to heavy storms that hit the area and eroded the soil around two tank cars that are currently being used as a culvert. County Road 1170 is a heavily trafficked road and a vital part of the road network in southern Hopkins County. For several years there have been complaints about county road maintenance in select precincts in the county.
In Texas, counties are separated into four precincts regardless of size. The precincts are governed by Commissioners who are a part of the Commissioners Court who is presided over by the County Judge. The County Commissioners original job was to maintain public roads in unincorporated areas of the county, coined county roads. Now, County Commissioners Court reviews the county tax rates and budget, approves purchases, sets salaries and benefits of the employees, fills vacancies in appointive and elected offices, authorizes contracts, and provides and maintains all county facilities and buildings.  The Commissioner title has become more associated with the Court than road maintenance in the recent years.
Throughout Texas counties have realized the threat to the well being and condition of the roads that has been posed due to the additional responsibilities placed on the Court. To improve the quality and efficiency of the road work and road crews, several counties have placed a new committee over the maintenance of the county roads. Instead of splitting the allotted amount in the county budget set aside for road work evenly between the four precincts, the amount is spent in each precinct as a need arises. For example, if Hopkins County had a committee like this one in place Precinct 1 would have the resources to repair County Road 1170 by spreading the budgeted amount of money to areas that are in immediate need, with one work crew and one road work committee head.