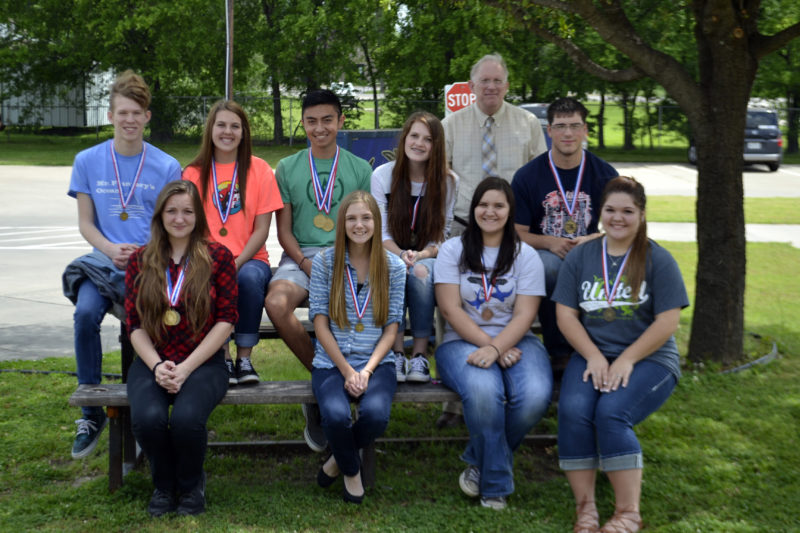 The Yantis High School Spelling/Vocabulary Team won the Conference A Regional Championship at the Regional Academic Meet at Tarleton State University in Stephenville
Saturday
. Among the 36 teams taking the test at the four Regional Academic Meets throughout the state, the Yantis Spellers achieved the third highest score. Senior Cristo Sanchez led the team with a 1st place finish while Shelbie Shoemaker won 2nd in the individual competition.
Other team members inluded Brandon Highlander and Hope Dixon.  The team will advance to the State Academic Meet to compete for the Conference A state championship next month.
The Yantis Journalism Team finished 3rd at the Regional Meet, only one point away from winning 2nd-place..  Ashten Burnett won 4th and Laura Weeks garnered 5th place in News Writing; Taylor Hathcoat was 5th in Editorial Writing and Jazlyn Jenkins finished 6th in Feature Writing.
The other Yantis medalist was Cameron McCrary, who won 4th place in Poetry Interpretation for the second consecutive year.
 Academic Coordinator Chip Mathews notes that the current academic team is continuing a tradition, which has sent Yantis competitors to 18 State Academic Meets in a row.
"We have a young Academic Team this year," Mathews said, "and I'm very pleased with their success. Some of our freshmen and sophomores should have sterling academic UIL prospects awaiting them in the future."
Overall the Yantis Academic Team finished 5th among the 31 teams that competed at the Region III Academic Meet.  State contest is on
May 24
.