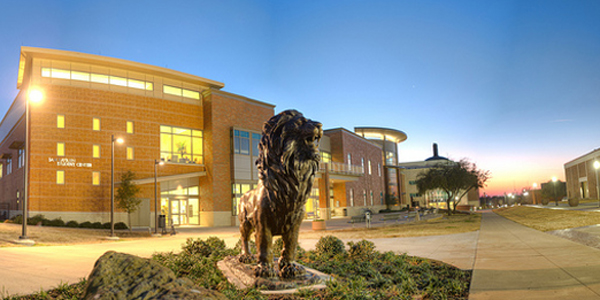 By Julia Gessner
COMMERCE, TX—Texas A&M University-Commerce is honored to be awarded $1.6 million from the Chancellor's Research Initiative (CRI) for the purchase of specialized scientific equipment for the new Biomedical Institute for Regenerative Medicine (BIRR) and recruitment of a new professor and two new assistant professors to conduct research in the institute.
The innovative research, headed by A&M-Commerce Distinguished Professor from the Department of Biological and Environmental Science, Dr. Larry Lemanski, is expected to be developed into a world-class university-based research enterprise located in the new health sciences building with faculty-level scientists, postdoctoral fellows and both graduate and undergraduate students contributing to the research.
"The Chancellor's Research Initiative award represents recognition of the seminal work on regenerative research that Dr. Larry Lemanski and his colleagues are conducting here at Texas A&M University-Commerce," said Provost and Vice President of Academic Affairs Dr. Benavides. "Moreover, the funding that comes with this award will enable us to attract other world-class scientists to join our soon-to-be established Biomedical Institute for Regenerative Research."
The current research team recently discovered a ribonucleic acid (RNA) from the human heart that has the ability to turn non-muscle cells into functional cardiac muscles. This breakthrough in biology and medicine means that in the future it should be possible to repair the damaged areas of the heart following a heart attack.
Dr. Lemanski will serve as the founding director of the BIRR. The new award will allow Dr. Zhenghan Zhao, MD, PhD, life science researcher at the Stanford University School of Medicine, to join him as the associate director to the BIRR. In addition, Dr. Javed Equabal, a research assistant at one of the top research universities in the world, the Indian Institute of Technology, and Dr. Yelica Lopez Rodriguez, DVM, PhD, a faculty member currently at a university in Venezuela will join the team.
"With the new health sciences building in the planning stages and with the addition of this specialized research faculty, A&M-Commerce will begin a new journey into biomedical research innovation and entrepreneurship," said Vice Provost for Research/Graduate Dean, Dr. Arlene Horne. "This institute will take A&M-Commerce to the next level of research."
The CRI was originally created in 2013 for Texas A&M University and Prairie View A&M University to hire highly qualified professors who would impact the academic and research missions of their schools. In 2015, The Texas A&M System Chancellor, John Sharp, announced that the Chancellor's Research Initiative would expand to the rest of the System.