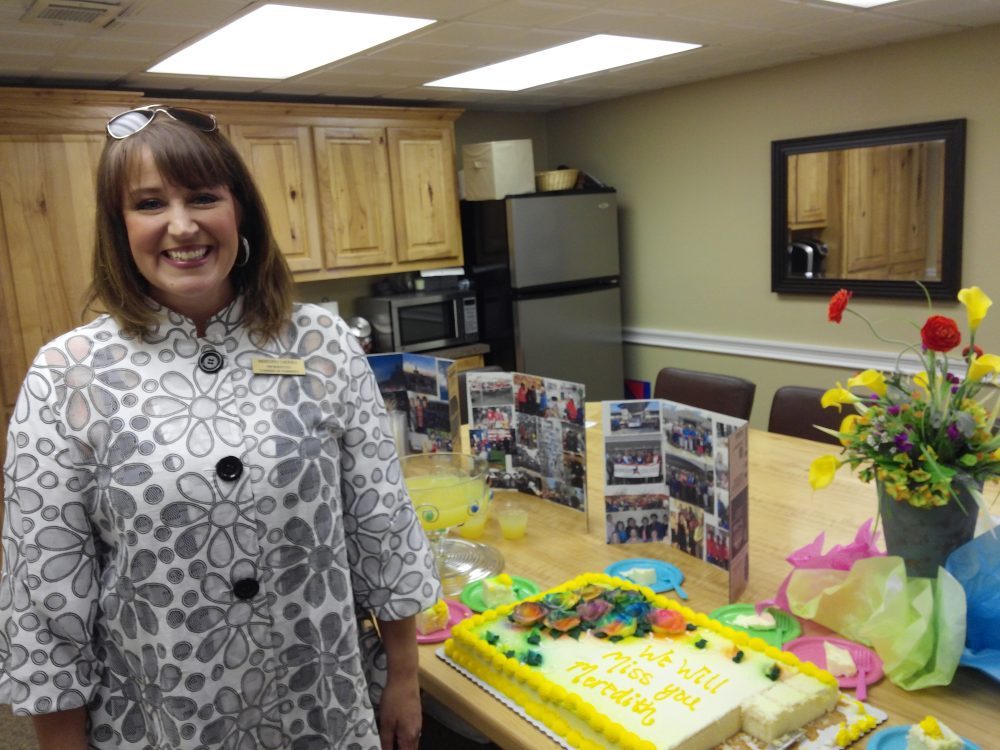 Meredith Caddell is going to miss being on the "busy" corner of town when she steps down as President/CEO of the Hopkins County Chamber of Commerce. The 300 Connally Street location is smack dab in the middle of everything going on in Celebration City. Meredith is going in an exciting direction by becoming Hopkins County Healthcare Foundation Director, a role held by Jackie Thornton for a decade. In the meantime, she will continue to carry out select duties for the Chamber until a replacement is selected. Her last official day with the Chamber is May 6, 2016.
Meredith graduated from Denison High School and studied at Oregon State University. She describes her background and experience as "an inch deep and a mile wide" because during this time in her life, a sequence of things began to happen for her. While studying sign language for the deaf as one of her college courses, she was hired to teach sign language classes. She then found employment with a coastal city as a planner for making their town handicap-friendly. HBO then hired Meredith as a trainer. First headquartered in Dallas, she traveled to several states to train cable offices in the implementation of HBO services. The global organization Up With People next caught her attention. Meredith started out as a goodwill team member, then spent a year employed as a director, planning Up With People public service and music events in 9 different countries and across the entire U.S. Somewhere along the way, she met Jake Cadell and they married in 1998.  Next, signing on with Paris Junior College in 2002 as an instructor, she taught classes in Medical Technology as well as Computer and Business courses.
In 2009, she accepted the job at the Chamber. For the past 8 years, she has produced several major annual events including the World Champion Hopkins County Stew Contest, the Texas State Championship Ice Cream Freeze-off, the Chamber Membership Banquet, Student and Adult Leadership courses, to name a few. During her tenure, she has worked closely with her mother Cathey Pribble Williams who is Office Manager at the Chamber. Although not raised in Sulphur Springs, Meredith is deeply rooted here.  That's due in part to her maternal grandparents' involvement with Hopkins County's historic Mike Pribble Fourth of July Rodeo, a family- produced event which put Sulphur Springs on the map starting in the 1940's.
She and Jake and their two children enjoy being involved in the community and plan to continue to make their home in Sulphur Springs. Meredith is looking forward to new challenges as she goes into the next phase of her busy life!