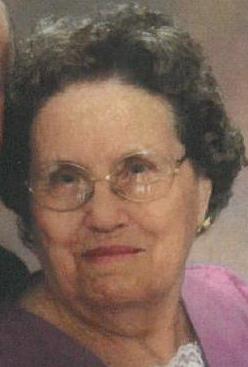 Funeral service for Ida Elizabeth Hutchins, age 93, of Emory, will be held Saturday, May 28, 2016, 2:00 PM, at Emory Church of Christ.  Jerome Savage and Paul Foley will conduct the service.  Burial will follow in Colony Cemetery. Visitation will be at the church from 1:00 – 2:00 pm on Saturday.
Mrs. Hutchins was born Jan. 28, 1923, in Dickens, to Lonnie Artemas and Carrie Lee McWhorter Hickman. She married Edward Denton Hutchins, in Houston, on June 14, 1941. She was a homemaker and a member of  Emory Church of Christ.
Survivors include:
Son:  Micheal Hutchins (Sandra) of Mesquite
Daughter:  Linda Junker (Harry) of Meridian
Granddaughter:  Joy Wingo (Nathan)
Grandson:  Brian Hutchins (Yaquan)
Great-grandsons:  Matthew and Benjamin Wingo
Great-granddaughter:  Elizabeth Lin Hutchins
Preceded in death by:  Parents; and Husband on May 3, 2016.