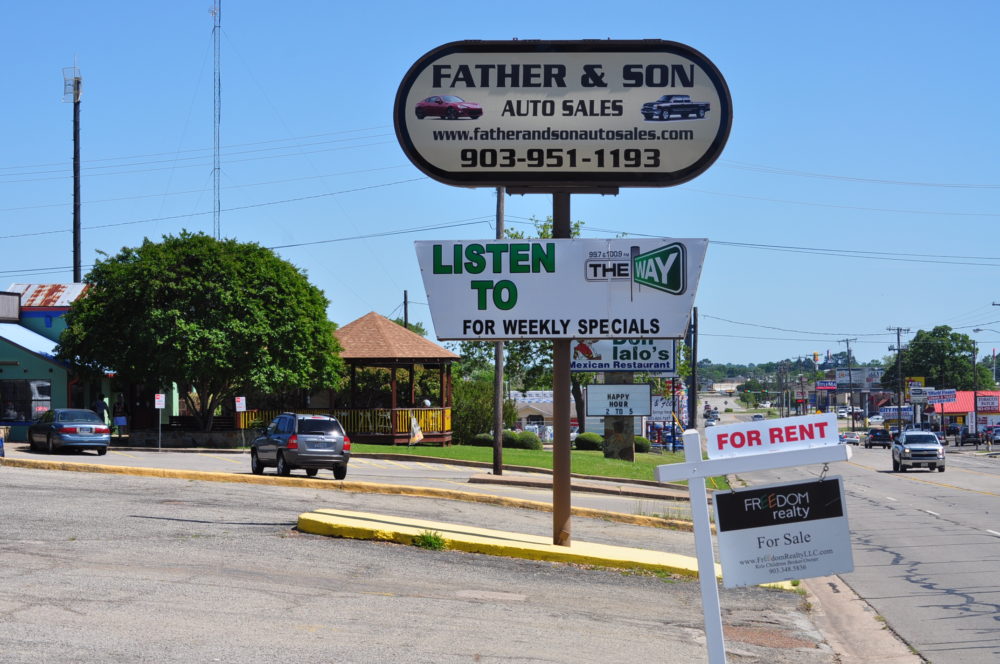 A Sulphur Springs fire investigator is seeking to determine the reason for an April 29th auto fire discovered at 2:03 a.m. behind what has been the location for Father and Son Auto on Gilmer Street. Fire Inspector Aaron Kager is seeking the cause of the fire discovered when Sulphur Springs Firemen were returning to Fire Station 2, according to the City Fire Marshall. The firemen noticed the blaze and responded to the location. After putting out the fire, the Captain on duty discovered a few things that were abnormal regarding the fire and notified the City Fire Marshall. The scene of the fire was cleared at 3:55 a.m. on the 29th. This is just one of the unusual events to occur at the 900 Gilmer Street location recently.
The building at 900 Gilmer Street has served as a location for a number of local businesses. Most have outgrown the location and moved on to larger facilities. Herschel's,  Chicken Express, Potato House, and others have at one time been found at that location and thrived. The last business at the location was Father and Sons Auto Sales. It is now no longer there. However, the reason for the auto sales company no longer doing business at the location is quite different from the others who are no longer there.
Overnight the auto sales lot was emptied by a number of people dressed in vests normally worn by those who work traffic control, according to law enforcement who drove past while the work was performed.  According to sources, Father and Sons Auto Sales sold cars on which they, as a business, were making payments. As each auto was sold, the specific auto was paid off and the amount over the original cost to the auto sales establishment was used to pay expenses and what was left resulted in profit to the proprietor or, as the auto was sold and payments made to Father and Son, the payments were to be forwarded on to the financial operation that funded the autos. It seems the process wasn't working well.
According to information given KSST, Father and Sons were unable to make their payments on the vehicles. It was also reported that some of the business practices were questioned by customers who had purchased an auto from the group but had not received the benefits of certain guarantees that accompanied the sale. One individual reported that they had made a sizable down payment for the purchase of an auto but that vehicle had been repoed and, some who purchased vehicles also had those vehicles repossessed because the auto sales was receiving their payments but not passing those payments on to the financial institution that served as financier for the enterprise. In other words, payments were being pocketed and not passed up line.
Father and Son Auto Sales also list a location in Mt Pleasant, Texas, according to their website.  Calling the toll-free number resulted in learning that number is disconnected. A look at one of their Facebook sites, there are two, has a last entry of February 5th on one and the other has only one comment, "Do not buy anything from Father and son. They're scums and in a lot of trouble."