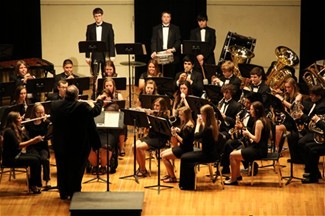 A special year for the Sulphur Springs High School Band continued this week as the band wrapped up its 2016 concert season at the UIL Concert Band Competition in Mount Pleasant on Wednesday and Thursday. The varsity symphonic band earned straight 1 ratings in both stage performance and sight reading competition resulting in a Sweepstakes Award for the second consecutive year. The junior varsity concert band received a 2 rating in both stage and sight reading.
Sulphur Springs High School Band and Fine Arts Director Charles McCauley told KSST that one of the judges atthe competition told him that "He felt that was the best he had ever heard the Sulphur Springs band."
"He may not be wrong. It was really good. We've had some good performances in the past, but yesterday was really special," McCauley added. "I think our preparation really showed in the performance." McCauley praised the support shown by all of the parents, family, and SSISD faculty who attended the competitions.
In addition to the Sweepstakes Award received on Thursday, the Sulphur Springs High School Band won two marching contests in 2015, had the most students make All-Region and Area Band since McCauley's arrival at the school, and had the most students make 1st Division at solo and ensemble competition in McCauley's 18 years as Band Director. "It's been a really special year. We're super proud of the kids…and the whole staff. It's a team effort."