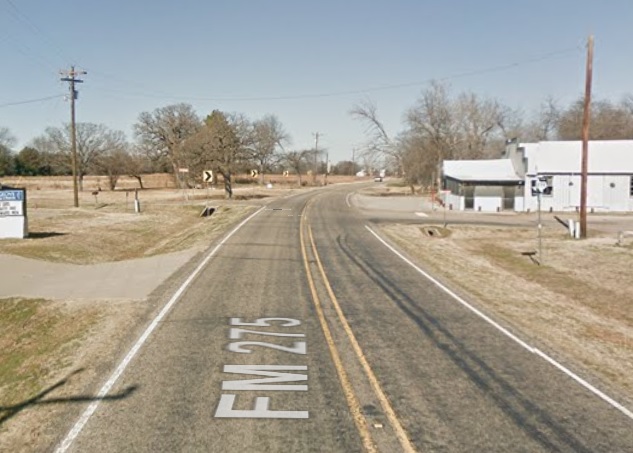 After not having enough time to submit a column last week and several things to report this week, there is no wonder that this week's column is so lengthy.
Friday, Mar. 18, I made a trip down to Houston to go to the Livestock Show and Rodeo.  I had never been, not even in high school when some of the other students went with Ag projects.  Surprisingly, the traffic wasn't bad at all and I was able to get to the grounds pretty easily.  Vendors were set up near the show area and food carts were outside.  Of course I had to sample a few things to eat while I was there.  I happened to run into our Ag teacher, Brandon McClure, while I was looking at the Ag Mechanics projects.  We talked for a few minutes and then I made my way through the maze of trailers and refurbished antique tractors to find a sheep dog contest going on in the show arena.  Some of the dogs were pretty impressive on how well they listened to the commands of their masters to herd the sheep into the pen.
Several people with Miller Grove ties have passed lately.  Some of them have not been in the community for a while and others were residents of "The Grove" for their entire life.
Tommie Truman Dicken, Jr. was laid to rest in Miller Grove Cemetery on Friday, Mar. 25, 2016 following a 2 pm funeral at Shannon Oaks Church.  West Oaks Funeral Home in Sulphur Springs was in charge of arrangements.  He passed in his home in Miller Grove on Mar. 21, 2016.  "Junior" has he was known to everyone in our neck of the woods, was born Jan. 18, 1931, in Cumby, the son of Tommie Truman Dicken and Zoa Zula (Wooly) Dicken.  He married Emma Sue Higgins on Jun. 14, 1952, in Tyler.  Junior was a member of Shannon Oaks Church and also served as a Sergeant in the United States Army.  After serving in the military, Junior was primarily a farmer – working with cattle and baling hay for the public.  His wife Sue was always by his side.  Growing up, I remember seeing Junior on a tractor more than I ever remember seeing him on foot or driving a vehicle.  During later years Junior's shop was a gathering place for men in the community.  He is survived by his wife, 2 sons (Jeff and Blake Dicken), one daughter (Glenda Bassham), and several grandchildren and great-grandchildren.  He was preceded in death by his parents; brothers Cecil, J.D., & Truett Dicken; and sister Bonnie Kilgore.
Edmond Bayard Basye, of the Palestine community between Miller Grove and Cumby, recently passed away on Mar. 28, in Wylie.  Funeral services were held Thursday, Mar. 31, at First Baptist Church of Sulphur Springs.  Murray-Orwosky Funeral Home was in charge of arrangements with interment following in the Long Cemetery.  Ed was born Feb. 16, 1931, in Dallas the son of E.B. and Rena (Butler) Basye.  He married Geneva Rae Long on Christmas Day 1953, in Dallas.  He served proudly in the Korean War and was a retired electrician by trade.  He was also a Mason and a member of Hopkins County Military Coalition.  Ed frequently served as one of the veterans who would conduct military honors at funerals in Hopkins County.  He is survived by one son, Alan, and one daughter, Cindy Robison.  He is also survived by several grandchildren.  Ed was preceded in death by his parents and wife.
I just recently learned of the passing of Clellan Johnson who is a descendant of the Johnson and Burns families of Miller Grove.  Clellan Vermon Johnson was born in Miller Grove on Sept. 8, 1934, the son of Claudie Vermon "Pete" Johnson and Martha Marie (Burns) Johnson.  Clellan married Dorothy Sue Little on Aug. 28, 1954, on Peak Street in Dallas.  He was preceded in death by Dorothy in 1996.  Clellan passed on Dec. 15, 2015 and funeral services were held in Highland's Christian Church in Dallas on Dec. 19 with graveside following in Grove Hill Memorial Park.  He is survived by his wife, Catherine; 2 sons, Michael and David Johnson, 2 daughters, Tricia Johnson Perez and Carolyn Johnson; many grandchildren and great-grandchildren; numerous cousins, nephews and nieces.
Ron Branom's graveside service was held Thurs, Mar. 24, in Pippin & Hill Cemetery south of Miller Grove.  Ronald Paul Branom was the son of Paul and Rachel (Randall) Branom, born in Sulphur Springs on Sept. 16, 1951.  He died in Carrollton on Mar. 21.  Survivors include two daughters, Rebecca Garrett and Victoria Branom; two grandchildren, Griffin and Breccan Garrett; and several cousins.  He was preceded in death by his parents.  Arrangements were with Tapp Funeral Home.
Congratulations to Ray and Jacque Sparks.  Their son, Samuel Alvie Sparks, was born Sunday, March 28 in Hopkins County Memorial Hospital.  He was their Easter baby.  He was born at 10:45 am and was 21 inches long, weighing 7 lbs and 6.2 oz.  He was welcomed by a host of friends and family.  Grandparents are Stephen and Fran Sparks and Kenneth and Charlotte Hayes, all of Miller Grove.  Great-grandparents are William Alvie Sparks and Bertha Anne (Davis) Sparks, of Miller Grove, and Loretta Christian Godwin of Daugherty.
Austin Tipps is leaving for Springfield, Missouri soon to start truck driving school.  Good luck to him on his new career path.
MG FFA recently competed in the annual forestry contest in Nacogdoches.  Our team finished 5th out of 42 teams with Kelsey Abbott making it in the top 10.  Congratulations to our students who participated!
MG UIL participants have done well this year with twelve students (competing in individual contests) and two teams advancing to the Regional competition.  For more information check out the article that was published in the News-Telegram on Mar. 30 that made the front page.  Here is a listing of their names:  Kayleigh Lester, Kaleigh Poteet, Grand Earp, Eden Godwin, Kayla Ford, Isabella DeLong, Faith Wynn, Grant Sharp, Jake Pelerose, Johnny White, Alexis Serrano, Derek McCreight, Trent Wolfe, Denise Lopez, Tiffany McManus, Jasmin DelCastillo, Kelsey Abbott, Cassidy Seaney, Demi Weatherford, and Rosa Schones.  Best wishes to each of the students who travel on to Nacogdoches for the next round of competing.
FFA and UIL are not the only two areas of for highlighting our students at MG.  We have also had several athletic honors for this year's basketball players.  Rosa Schones (freshman) made the TABC all region team and TGCA all state team this year not to mention Offensive Player of the Year.  Ashley Purser and Kayleigh Lester were name to first team all district while Aleigh Bessonett received second team honors and honorable mention was awarded to Candace Earp.  Brennan Green received second team all district.  Trey Lester and Derek McVeigh (seniors) along with Albert Serrano and Luke Brignon (sophomores) received honorable mention bragging rights.
April 4-15 will be Miller Grove Elementary's annual Pre-K and Kindergarten Roundup.  Anyone interested in enrolling their youngsters for the 2016-2017 school year can stop by to fill out a registration packet.  Pre-Kers must by either 3 or 4 years of age as of Sept. 1 and Kindergarteners must by 5 years old by the Sept. 1 deadline.  Contact the school at 903-459-3288 for more information.
I'm happy to say that my niece, Savanna Darrow, will be Baptized on Sunday, Apr. 3.  She is very excited, along with the rest of her family.
Happy Belated and upcoming birthday to:  Franklin Johnson & Colten Baylus on Mar. 29, Kendar (Dannheim) Fisher on Mar. 30, David Tipps on Mar. 31, Jean Benton on Apr. 2, Canyon Smith on Apr. 3, Rhonda Garrett on Apr. 4, J.W. Ragan on Apr. 6, Demi Weatherford & Kayla (Petty) Berkvens on Apr. 7, and Cole Burnett & Charles Regan on Apr. 8.
As you travel the highways and byways don't forget that all roads lead back home and back to Miller Grove. Please send me any newsworthy information. My email address is [email protected].