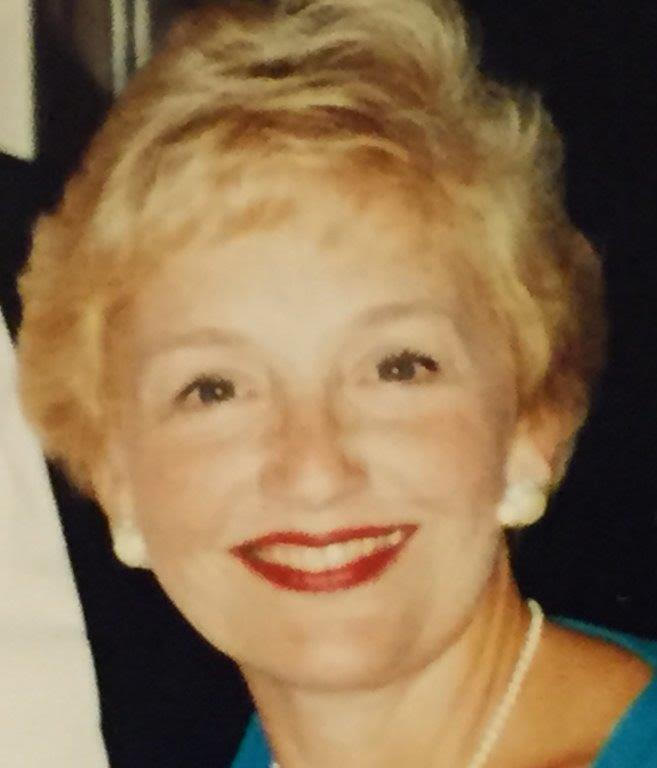 Margaret Jane Jones Hellmann (Mimi) died at home in Plano, Texas on April 17, 2016, just three days short of her 71st birthday, after a lengthy battle with a rare Parkinson-related disease.
Jane was born in Kansas City on April 20, 1945 to Harry and Alice Jones and was the oldest of three children.  She loved reminiscing about growing up in small town Richmond, Missouri with her cousins and much loved brothers, Bob and Ernie.
Jane graduated with a degree in elementary education from Baker University in Baldwin City, Kansas where she was a member of the Alpha Chi Omega sorority. Baker was also where she met the love of her life, Joe Hellmann from Louisville, Kentucky, and that began an almost 51 year love affair.  Married in college and with two daughters in tow, Jane and Joe started a life of new beginnings, with Joe's job transfers taking them from Kansas to Delaware, Connecticut, Illinois, and Texas twice.  Every place she was planted, Jane blossomed and spread her special brand of love along with a beaming smile, ready laugh, intently listening ear, and compassionate and generous heart. With each move the Hellmann family made, Jane's main goal was to make a loving home for her two young girls and Joe. However, Jane could never be still, and left a bit of herself in each place she lived.
She organized a new chapter of the P.E.O. Sisterhood while in Connecticut and established successful Mother's Day Out programs in both Delaware and Connecticut. Jane was passionate about children, which was a perfect fit for her as a teacher.  She taught first grade in Houston, Texas, Wheaton, Illinois, and lastly Plano, Texas where she retired from Carlisle Elementary in 2006. In Plano, Jane was an active member of P.E.O. Chapter FA and the Covenant Class of Custer Road United Methodist Church.
Jane was "Mimi" to three grandsons and one granddaughter and for sure savored this role most of all. She loved to extract hugs from her grandkids whenever and wherever she could…and they loved her back in a very special way.
Jane was a lifelong educator, not just in the classroom but in life by how she lived hers.
Jane put others before herself, and was never selfish with her love, time, or attention.  She was a woman of deep faith, believing in the power and strength of Jesus Christ's love and grace and the beauty and peace that awaited her.  Jane came from a long line of Methodists, loved her church, and was always active in it wherever the family moved.  Jane's faith, unwavering throughout her illness, brought strength and peace to those around her.
Jane is survived by husband Joe Hellmann of Plano, Texas; daughter Amy Hellmann Waterbury of Allen, Texas; daughter Heather Hellmann Johnson and husband Clay of Sulphur Springs, Texas; daughter of her heart Jill Moyher Wede and husband Scott of Lantana, Texas; four grandchildren cherished by their Mimi, Mark Henry Waterbury, V (Quinn), Joseph Garret Waterbury, Emily Jane Johnson, and Matthew Morgan Johnson; brother Robert Jones and wife Sandy of Overland Park, Kansas; brother Ernest Jones and wife Nancy of Richmond, Missouri; AFS brother Dr. Lluis Planas and wife Rose of Wauconda, Illinois; and numerous cousins, nieces, nephews and close friends whom she loved so dearly.
The family is most grateful for the outpouring of love, prayers, and support in many heart-felt forms. While there are too many people to name individually (family, her church family at Custer Road UMC, friends,  P.E.O. sisters, special caregivers, and the amazing team from Amity Hospice Dallas) they cannot be thanked enough for helping to carry us through the long and devastating course of Jane's disease.
A Memorial Service celebrating her life will be held at Custer Road United Methodist Church, 6601 Custer Road, Plano, Texas, on Saturday, April 30th at 2:00 p.m. with Reverend Jack Gibson officiating.  A reception will immediately follow in Fellowship Hall. For those wishing to make a donation in Jane's memory, please send your contribution to: Plano ISD Education Foundation 2700 W. 15th Street Plano, TX 75075 (In memory of Jane Jones Hellmann)