Sixty-five indictments, 14 sealed, were handed down Monday afternoon by a Hopkins County Grand Jury. A wide range of indictments were included in the afternoon's work. Many of the arrest reports can be found at ksstradio.com. Just enter their names in the search feature.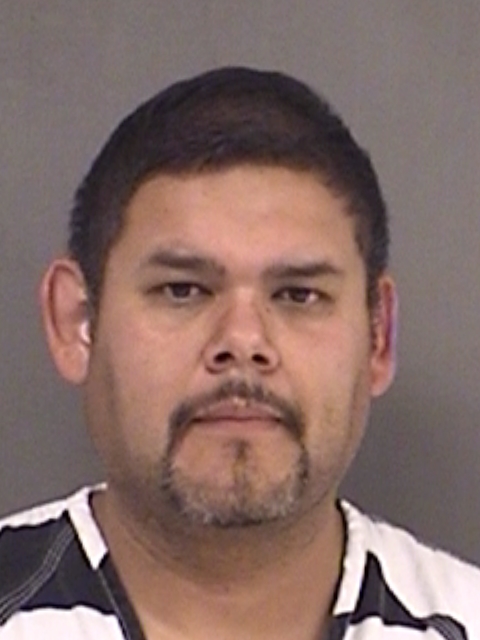 Jesus Avila was indicted for sexual abuse of a child continuous.  Avila, 39, of Saltillo was arrested for Continuous Sexual Abuse of a Child under the age of 14. Hopkins County Sheriff Deputies received a call from the Franklin County Sheriff's Office informing them that Avila, who was accompanied by a child, turned himself in on previous sexual assault incidents. Both Avila and the child voluntarily came to the Hopkins County Sheriff's Office to be interviewed. During the interview, Avila admitted that he had sexually abused the victim for approximately 4 years. Deputies then placed Avila in custody and booked him into the Hopkins County Jail.
Jeffery Eugene Dixon, II, was indicted for assault family/household.
Eight were indicted for engaging in organized crime. Christopher Lee Chambers, 29, of Mabank; Christopher Brandon Garcia, 32, of Balch Springs; Dustin Kyle Garcia, 33 of Mesquite; James Lindy Minter, 37 of Kemp; David Paul Rockwell, of Terrell; Richardo Salvivar, 34 of Combine; Joshua Terry Christopher, 34 of Kemp; and Darrel Wayne Waites of Deville, Louisiana were all indicted for their activities in the theft of All Terrain Vehicles from Nor-Tex Tractor in Sulphur Springs. They were also involved with others in organized criminal activity that included stolen ATVs in at least three states-Texas, Oklahoma, and Louisiana.
Indicted for theft of livestock under 10 head was Timothy Randall Mayo. Mayo, 45, of Bonham, Texas, was arrested at his residence on a warrant for Theft of Livestock. According to Special Ranger Tony Hurley, Mayo wrote a check to the Sulphur Springs Livestock and Dairy Auction sale barn for a cattle purchase in February, but it turned out to be a worthless check and therefore Mayo committed a 3rd degree felony theft. Hurley arrested Mayo at his Bonham residence and took him to the Bonham Police Department where a magistrates hearing was held by Fannin County Justice of the Peace Royce W. Smithey. Mayo was then transported to the Hopkins County Jail.
Theft of property over $2,500 but less than $30,000 indictment was handed down against Dustin Cody McCord.
An indictment for theft of property over $1500 but less than $20,000 was handed down for Eric Lynn Johnson, 26. Johnson was one of two suspects sought as scam artists have been active in Sulphur Springs and Hopkins County in September of last year. Sheriff's Department Chief Criminal Investigator Lewis Tatum warned people to be wary when anyone knocks on your door offering services. Tatum said an individual in a small, white passenger car was working both the city and the county. The driver was stating that he is checking roofs for lightning rods.  This set of scam artists say they are working for an insurance company. When checking on lightning rods, they advocate roof repair. Their target was the elderly. A resident in the south part of Hopkins County on State Highway 154 and a resident in Sulphur Springs near Walmart reported visits from the scam artist. Tatum alerted Lt. Tanner Crump in the county patrol division who visited the residents in the county. Investigator Dennis Finley was called in as well. Tatum said the individual lost a rather large amount of money to the scam artist. Finley traced one of the individuals to Smith County where he arrested Johnson.
Fred R. Lindley was indicted for Theft of Property less than $2500 with two or more prior convictions.
Billy Lynn Lundy was indicted for burglary of a building.
Also indicted for burglary of a building and for evading arrest with a motor vehicle was Roger Ray Wilson. Sulphur Springs Police Department Communications advised of a burglary in progress at the Super Handy convenience store on Gilmer Street. The subjects involved fled the scene in a gray 2009 Ford Escape. Hopkins County Sheriff's Deputy Shea Shaw located the vehicle traveling westbound on Interstate 30. The vehicle proceeded without yielding for approximately a mile before stopping at the 121 mile marker. Deputy Shaw made contact with Roger Ray Wilson, 49, the driver of the vehicle, and an unnamed passenger and asked them to exit the vehicle for questioning. After briefly speaking with the two subjects, the passenger fled north across IH-30 into the woods. Wilson then followed the fleeing subject. Department of Public Safety's Air Support was contacted to assist in the search. The DPS search helicopter located Wilson hiding in the brush inside the woods just north of the initial stop location. Wilson was then taken into custody and transported to the Hopkins County Jail.
Kenneth Ray Vaughn, 60, was indicted for obstruction or retaliation.  A 60-year-old Como, Texas man was arrested Sunday evening for Obstruction or Retaliation. Sheriff Deputy Sergeant Wade Sheets responded to a disturbance call at a County Road 3562 residence. Upon arrival, the accused subject began to verbally threaten Sgt. Sheets. According to an arrest report, the man shouted "Don't [expletive] with me" and that he would "Blow your [expletive] head off!" The man's brother made an attempt to calm the suspect down. Sgt. Sheets arrested the man, Vaughn.
Nathan James Bearden was indicted for Unlawful Delivery/Manufacture with intent to Stimulate. Bearden was arrested when Sgt. Estes made a traffic stop on East Loop 301 at Industrial Drive and Jefferson Street. Sgt. Estes immediately noticed nervous indicators for both the driver and the passenger. After gaining consent to search the vehicle, Sgt. Estes located a large, clear bag containing a crystal substance believed to be methamphetamine. The narcotics weighed in at 11.1 grams.
Arrested at the same time with Bearden were others. They, too, were indicted by the grand jury:
Courney Rae Carrizales, 23, for possession of a controlled substance more than 4-grams and less than 200-grams.
Donald Brian Ellis, Jr. 25, for possession of a controlled substance more than 4-grams and less than 200-grams.
Misti Michelle Neillon, 26, for possession of a controlled substance more than 4-grams but less than 200-grams.
Also indicted for possession of a controlled substance more than 4-grams but less than 200-grams was Amy Michelle Branch.
The grand jury indicted two that had been arrested in December, 2015. The city and county Special Crimes Unit conducted a drug buy and bust operation in Hopkins County. Two people from Dallas were arrested. Lt Harold McClure with the Special Crimes Unit said a confidential informant passed information to members of the unit that lead to the arrest and confiscation of half pound of marijuana and one half ounce of meth and cocaine along with perscription medication. Members of the special crimes unit, SSPD Chief Investigator Rusty Stillwagoner and other members of the SSPD, along with Lewis Tatum, Chief Criminal Investigatorfor the Sheriff's Department made the arrest. The pair made the offer to sell to undercover agents locally. The twoarrested then and indicted Monday are:
Chelsea Chanel Crisler, 22, of Dallas was indicted for manufacture and delivery of a controlled substance more than 4-grams and less than 200 grams.
Dominique Donta Gage, 29, of Dallas was indicted on two counts of manufacture and delivery of a controlled substance over 4-grams but less than 200-grams.
Indicted for manufacture and delivery of a controlled substance over 1-gram but less than 4-grams was Pedro Amador Monrreal.
Indicted for possession of a controlled substance over 1-gram but less than 4-grams in a drug free zone was Katelin Leann Gumpert. Recently released from Hopkins County Jail after posting bail for multiple charges, Gumpert, 24, was arrested as a result of yet another routine traffic stop. The stop occurred around the 300 block of Church Street when officers learned of two warrants for Gumpert that were issued by the Special Crimes Unit. Gumpert was wanted for Possession of Controlled Substance greater than 1 gram and less than 4 grams in a Drug Free Zone and Possession of Controlled Substance less than 1 gram in a Drug Free Zone. Sulphur Springs Police Department Investigator Mark Estes and Hopkins County Sheriff's Office Investigator Tony Crouse arrested Gumpert and transported her to the Hopkins County Jail.
Indicted for possession of a controlled substance over 1-gram but less than 4-grams:
Leslie Irene Cates
Shawn Edward Harvey
Katherine Marie Johnson
Indicted for possession of a controlled substance under 1-gram:
Brandon Lynn Campbell
Terry Allen Carver
Darin Lee Gibson
Jackson Blaze Gilreath
Melissa Ann Moore
James Wesley Preston
Kristin Nicole Ramsey
Dylan Lee Reed
Tonya Renea Doolin
Eric Anthony Gonzalez
Indicted for bail jumping/failure to appear.
Robert Charles Vaughn
Cody Brandon Carter
Indicted for tampering/fabricating physical evidence:
Jammie Sherese McDonald
Christal Jean Carter. Carter was also indicted for evading arrest.
Jerry Allen Farmer
Lastarya Loretta Kidd
Eric Otto Buckholt was indicted for tampering with a witness.
Indicted for driving while intoxicated:
Isiaah Alberty
Ravenel Joseph Johnson
Michael Jay Hoffman